*If you have a spotlight topic please email us at ucsdpda@gmail.com.
Spotlights
The PDA is happy to announce that it has joined the Green New Deal at UC San Diego as a Coalition Ally! 
The Green New Deal at UCSD supports postdocs in learning how they can support initiatives and activities on campus and in the UC system which focus on the climate crisis.  We will provide resources relating to calls for action relating to climate justice!
For more information on the Green New Deal at UC San Diego, click here!
UCSD Postdoc Spotlights
Selected image as cover for the Southern California Eukaryotic Pathogen Symposium 2018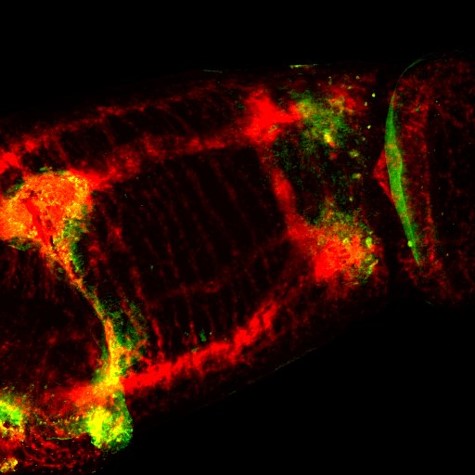 One of the images, related to our dear Postdoctoral Fellow Nelly El-Sakkary, was selected as cover for the recent event Southern California Eukaryotic Pathogen Symposium - Nov. 28, 2018.
The figure corresponds to a confocal image of the adult brain of the flatworm parasite Schistosoma mansoni showing labeling of the neurotransmitter octopamine (green) and neuronal marker synapsin (red). Regions of overlap are indicated in yellow, demonstrating octopamine in the lobes of the brain. There are four lobes, two anterior ganglia (right), and two posterior ganglia (left) making up the brain, rather than two lobes as previously reported. Octopamine is a biogenic amine which is important in worm motor control. It is found in larval and adult stages of the parasite throughout the nervous system and in female reproductive organs, signifying its importance (El-Sakkary et al., 2018).
Congratulations Dr. Simone Tosi!  

The UC San Diego Postdoctoral Association is proud to expand the deserved congratulations to Dr. Simone Tosi. One of his recent published papers was recognized as the Best Social Insect Paper (2014-2017 period) and he was awarded by the 
Italian Association for the Study of Social and Presocial Arthropods (
http://www.aisasp.it
). The award was given at the XVI National AISASP Congress, Rome, 14-15th September 2017 (
www.aisasp2017.wordpress.com
)
.
Currently, Dr. Simone Tosi is a postdoctoral fellow in the Ecology, Behavior and Evolution section of the Division of Biological Sciences. His research focuses on the health of bees and their respective environment. As a former PDA board member, he appreciates how PDA brings postdocs together, creating opportunities for sharing experiences and expertise to build a strong community.
Enjoy his and his collaborator´s original publication: Tosi, S., G. Burgio, and Nieh, J.C. (2017) Sublethal effects of a common neonicotinoid pesticide, thiamethoxam, on honey bee flight. Scientific Reports. DOI:10.1038/s41598-017-01361-
8. (
https://www.nature.com/articles/s41598-017-01361-8
)
Get to know other successful faculty and alumni of the UC San Diego Postdoctoral Association.