2019 Events
Seventh Annual New Year's Networking Event
Date: February 4th, 2019
Time: 7:00 – 10:00 pm
Location:  Mike Hess Brewing Company in North Park
Please join us at our Seventh Annual New Year's Networking Event on Monday, February 4th from 7-10pm at Mike Hess Brewing Company in North Park.
Ring in the new year with fellow postdocs and industry professionals from around the area! In collaboration with postdoc associations at The Scripps Research Institute, La Jolla Institute for Immunology, Salk Institute, & Sanford Burnham Prebys Medical Discovery Institute, we invite you to join us for a New Year's celebration and networking social.
Make networking your resolution, and enjoy free food and free drinks for the first 100 registered attendees!! Register today! https://pdanyn.eventbrite.com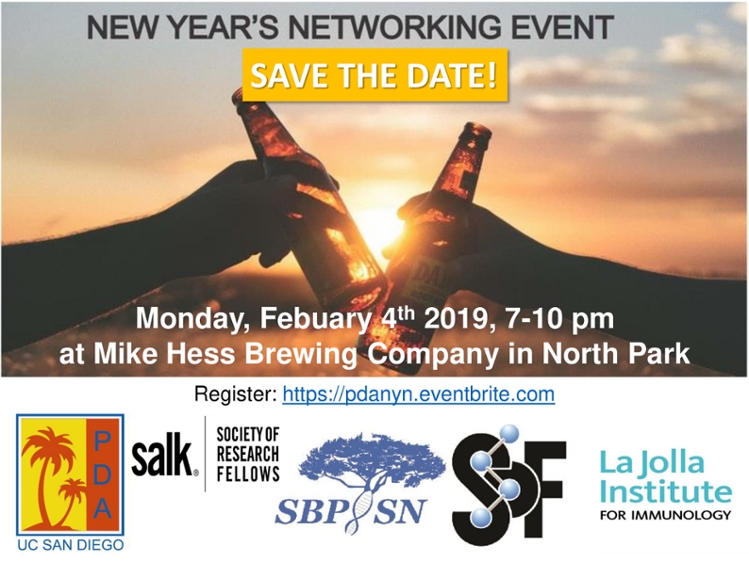 2018 Events
UCSD PDA Movie Night
Holidays are coming and the UCSD PDA will host a Christmas movie night!
Date: Thursday, December 18th, 2018
Time: 7:00 – 10:00 pm
Location:  Martin Johnson House (Scripps Institution of Oceanography)
There will be some activities, food and drinks from 7 pm. The movie starts at 7:30 pm. Which movie should we watch? Well, you have the opportunity to pick one of the following: 1) "Die Hard" (1988) John McClane, a New York policeman goes to L.A. on Christmas to regain the love of his wife. You wouldn't believe what happened next 2) "Love Actually" (2003) Follows the intertwined stories of very different couples in Christmastime London. 3) "Elf" (2003) A man raised like an elf in the North Pole goes to New York to meet his family. 4) "Arthur Christmas" (2011) Arthur Claus embarks on a quest to save the Christmas of a young girl that hasn't received her present. 
Vote here for the movie you would like to watch. The movie that we will show will be announced on Friday 12/14!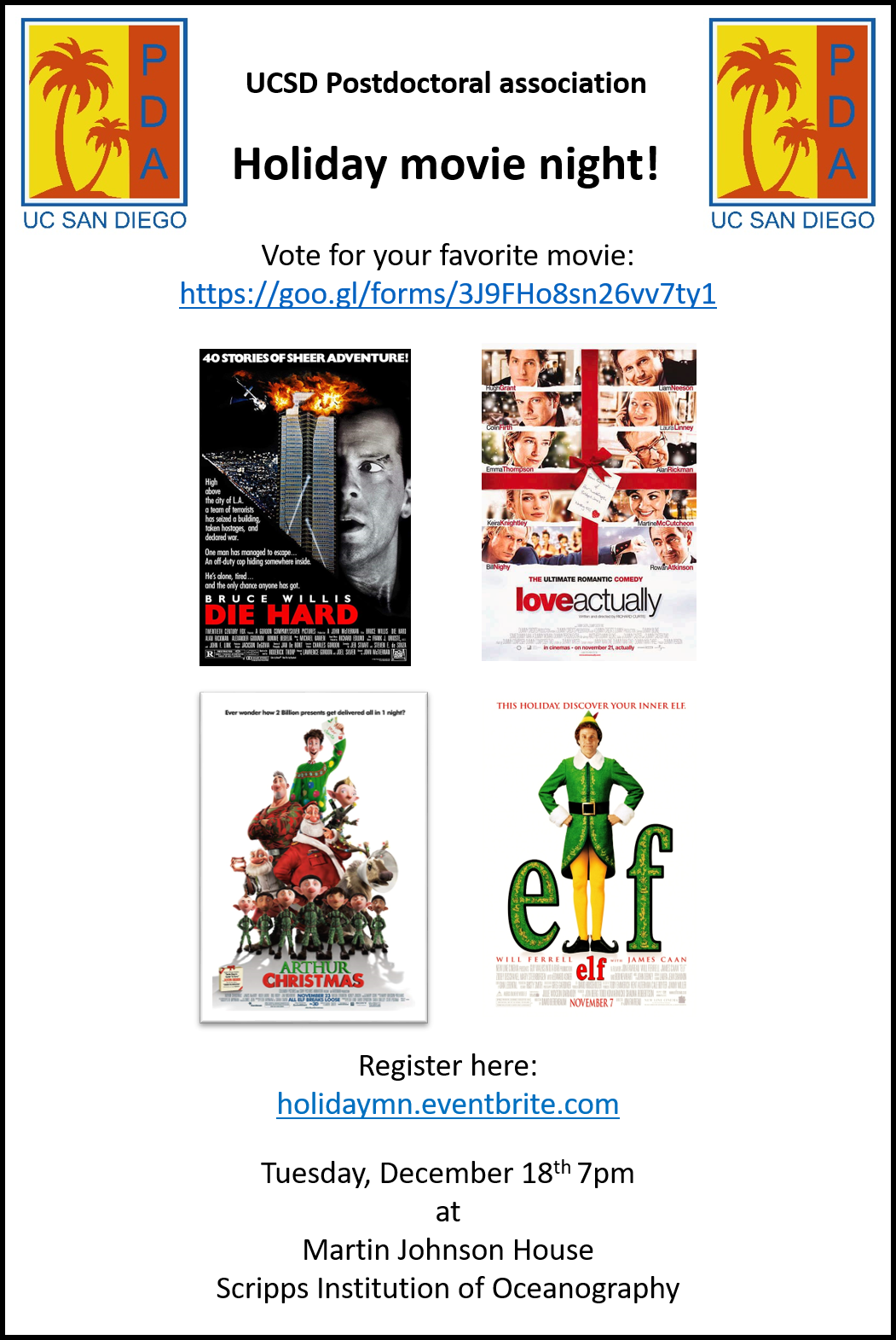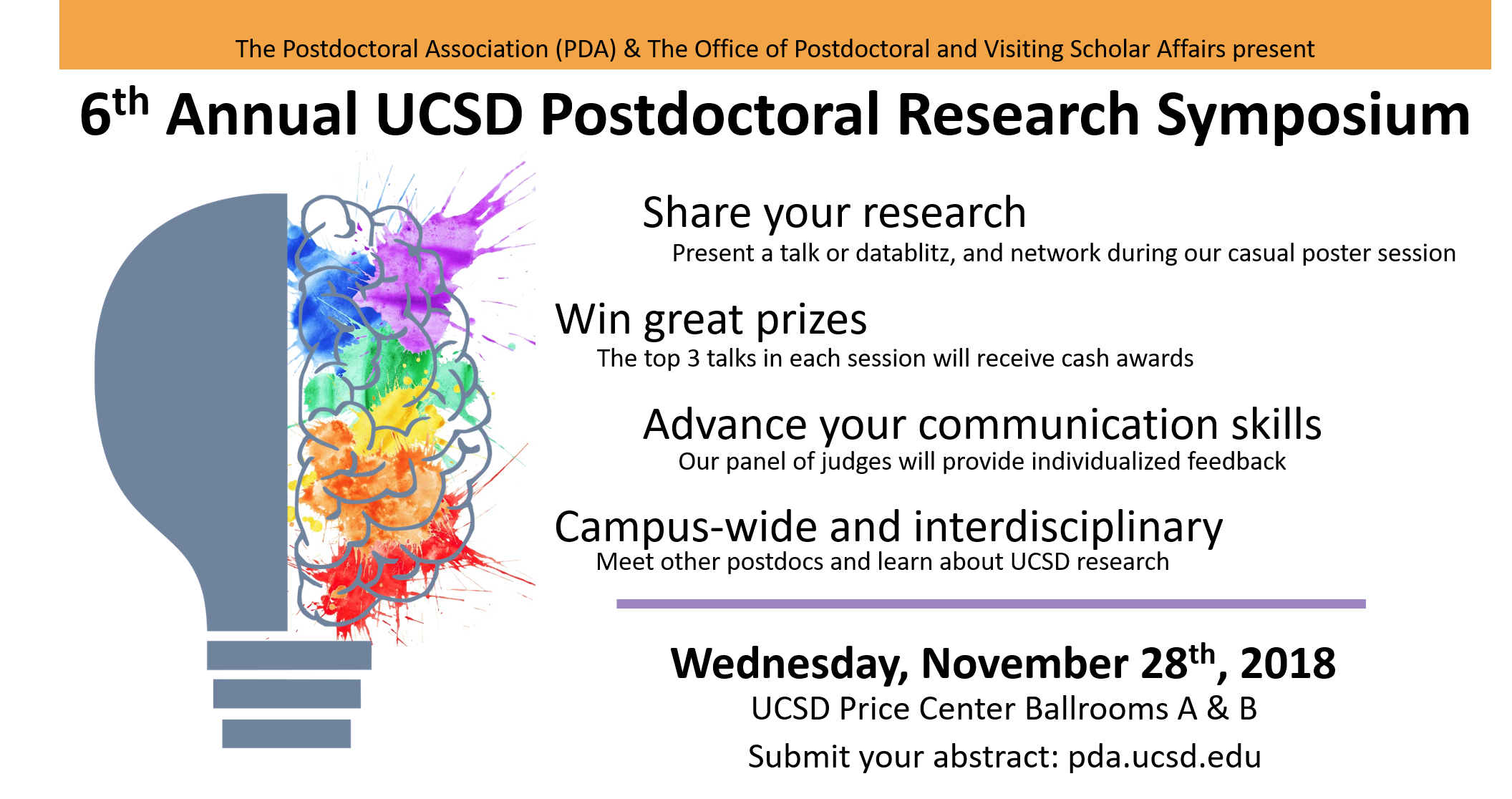 The campus-wide Postdoc Research Symposium is back again on November 28th 2018 (Wednesday, 11 am - 4 pm).
This forum will be a perfect opportunity for you to present your work to your peers and industry professionals, discuss and improve your communication skills, network and establish new collaborations, and also win presentation awards and cash prizes.
So, take advantage of this amazing opportunity and submit your abstracts now!! Abstract submission deadline is October 31st, 2018.
There will be sessions for Oral Presentation (5-7 m), Research Rave (2-3 m), and a casual networking poster session.
New this year, we are featuring a panel of judges who specialize in communication, who will be providing individualized feedback to every person who gives an oral presentation.
So please, join us for lunch and a fun day of presentations and networking! Presenters will be automatically registered for the Chancellor's Award Reception, which will follow the symposium.
If you have specific questions or are interested in being a judge, please email us at pdaresearch@ucsd.edu.
Program
10:30 AM- Registration and speaker and participant check in
11:00 - 11:30 AM- Keynote address
11:30 AM- 12:15 PM- Oral presentations Part 1
12:15 - 1:15 PM- Lunch
1:15 - 2:00 PM- Oral presentations Part 2
2:00 - 3:00 PM- Research Rave
3:00 - 4:00 PM- Poster Networking session
4:00 PM onwards- Chancellor's awards and Symposium presentation awards
We are looking forward to showcasing your research!
The UC San Diego Postdoctoral Association (PDA)
UCSD PDA South Clevenger Canyon hike
Find more information, RSVP and organize car pools on our facebook page: www.facebook.com/UCSDpda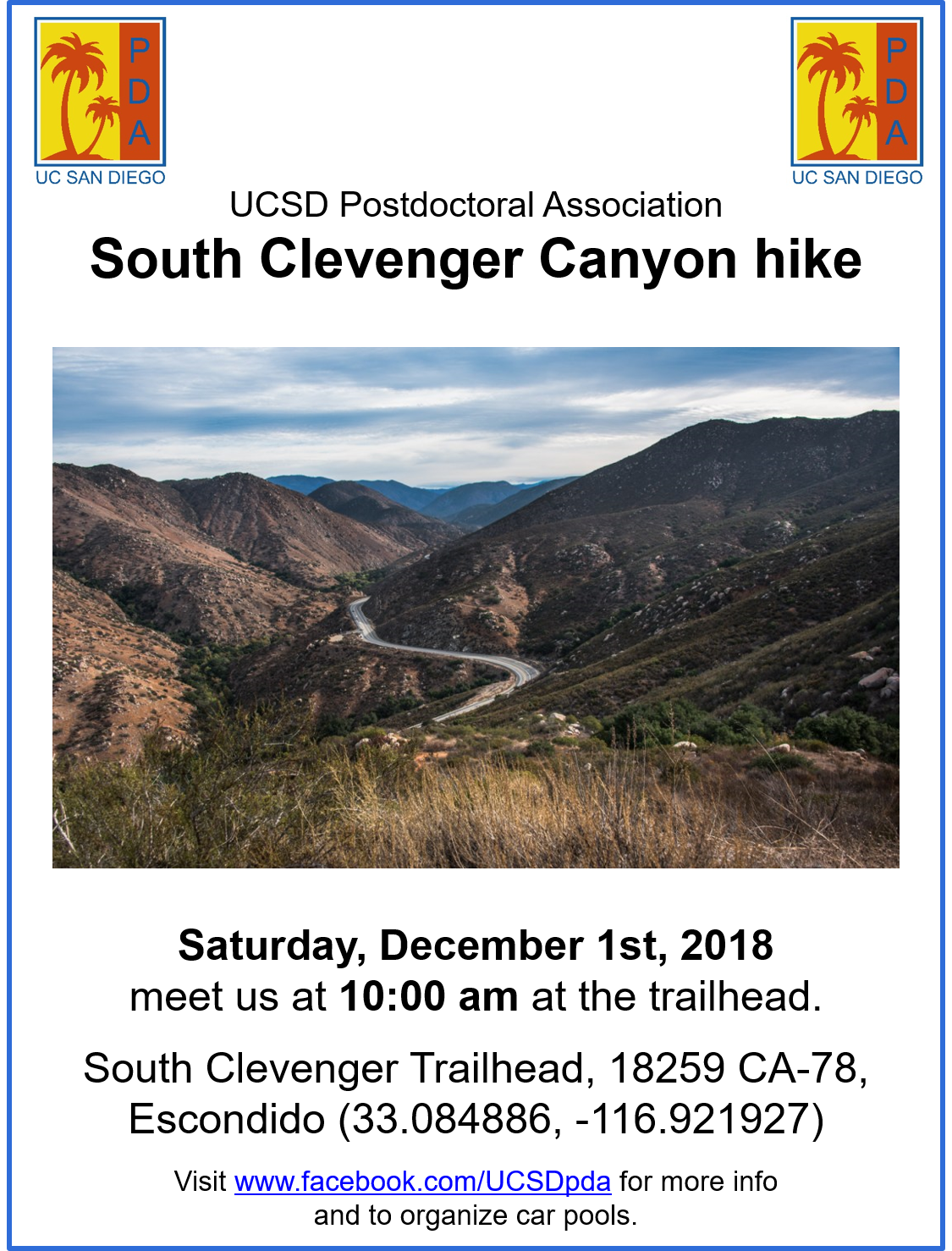 Postdoc Pub Night
Have a beer and hang out with fellow postdocs!  Meet new people!  Explore San Diego!
Organized by your Postdoctoral Association (PDA), Postdoc Pub Nights visits pubs in different neighborhoods of San Diego. Come join us!
Postdoc Pub Night at The Dog
Date: Thursday, December 6th, 2018
Time: 7:00 – 10:00 pm
Location:  4479 Everts Street, Pacific Beach