2019 Events
Postdoc Pub Night - August 2019




UCSD PDA Vendor Show 
You are cordially invited to participate in the upcoming UCSD PDA Annual Vendor Show on Thursday, August 15th, 2019 from 10 am to 2 pm. Every year, over 400 researchers, consisting of faculty, postdocs, and lab managers who make purchasing decisions, attend this event. This is an excellent opportunity for you to demonstrate your latest state-of-art technology and products to the UCSD research community! Please refer to the link below for additional details and to secure your spot for this event. We can be reached at ucsdpdavendorshow@gmail.com for any questions. We look forward to hearing from you!
Sign up here: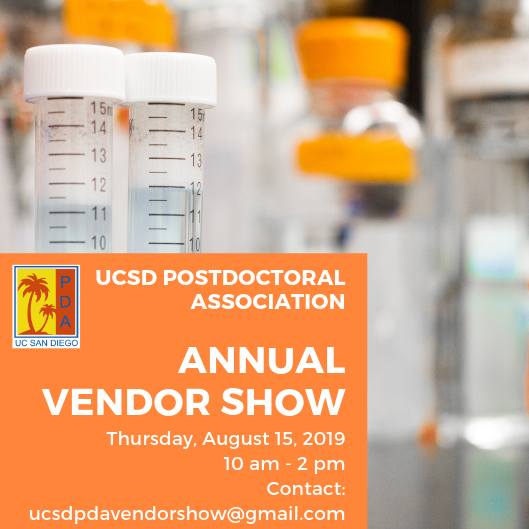 Postdoc Pub Night - July 2019


5th SABPA - UCSD Career Development Forum 
Register here and check the panelists here
BIOINFORMATICS AND DATA SCIENCE: CAREERS FOR LIFE SCIENTISTS IN THE INFORMATION AGE
In the era of "big data", life scientists have unprecedented access to new sources of information and increasing career opportunities in fields like bioinformatics, data science, and other interdisciplinary areas. In the 5th Annual Joint Career Development Forum, co-organized by SABPA and UCSD Postdoc Association (PDA), we have invited scientists and senior managers from these fields to an interactive panel discussion. The panelists will share their experience and career path in bioinformatics and data science and opportunities for life scientists seeking to move into these exciting fields.
WHEN: Tuesday, June 18th, 2019
5:30 – 6:15 PM Registration and Networking Dinner
6:15 – 6:30 PM Welcome by SABPA ECD and UCSD PDA
6:30 – 8:00 PM Panel Discussion
8:00 – 8:30 PM Networking
WHERE: Roth Auditorium, Sanford Consortium for Regenerative Medicine 2880
Torrey Pines Scenic Drive, La Jolla, CA 92037
Postdoc Pub Night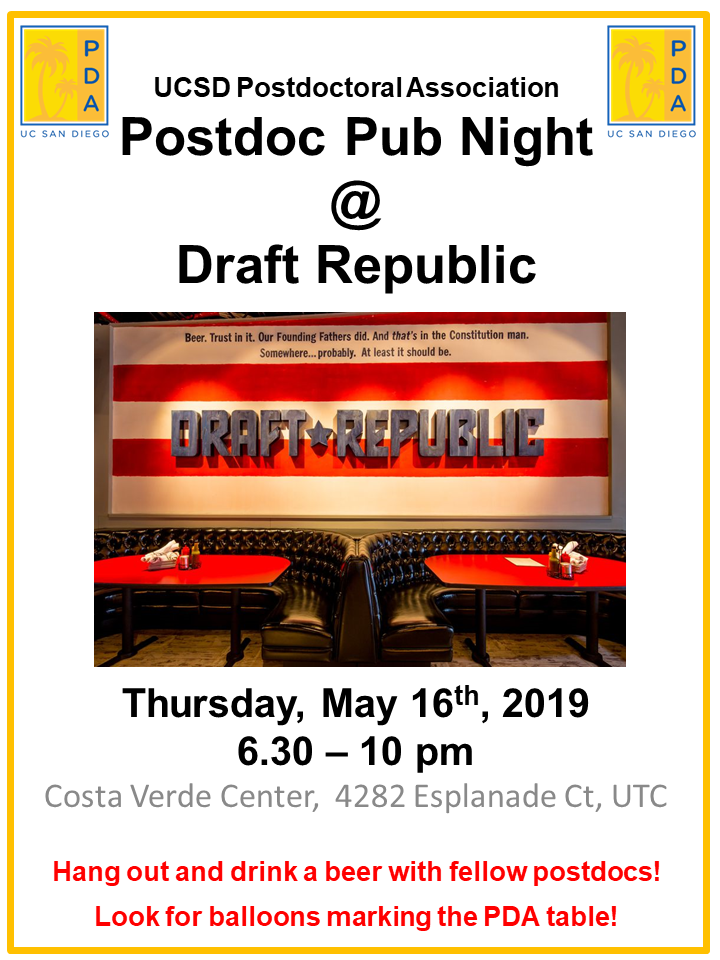 Mount Laguna Meadow Loop Hike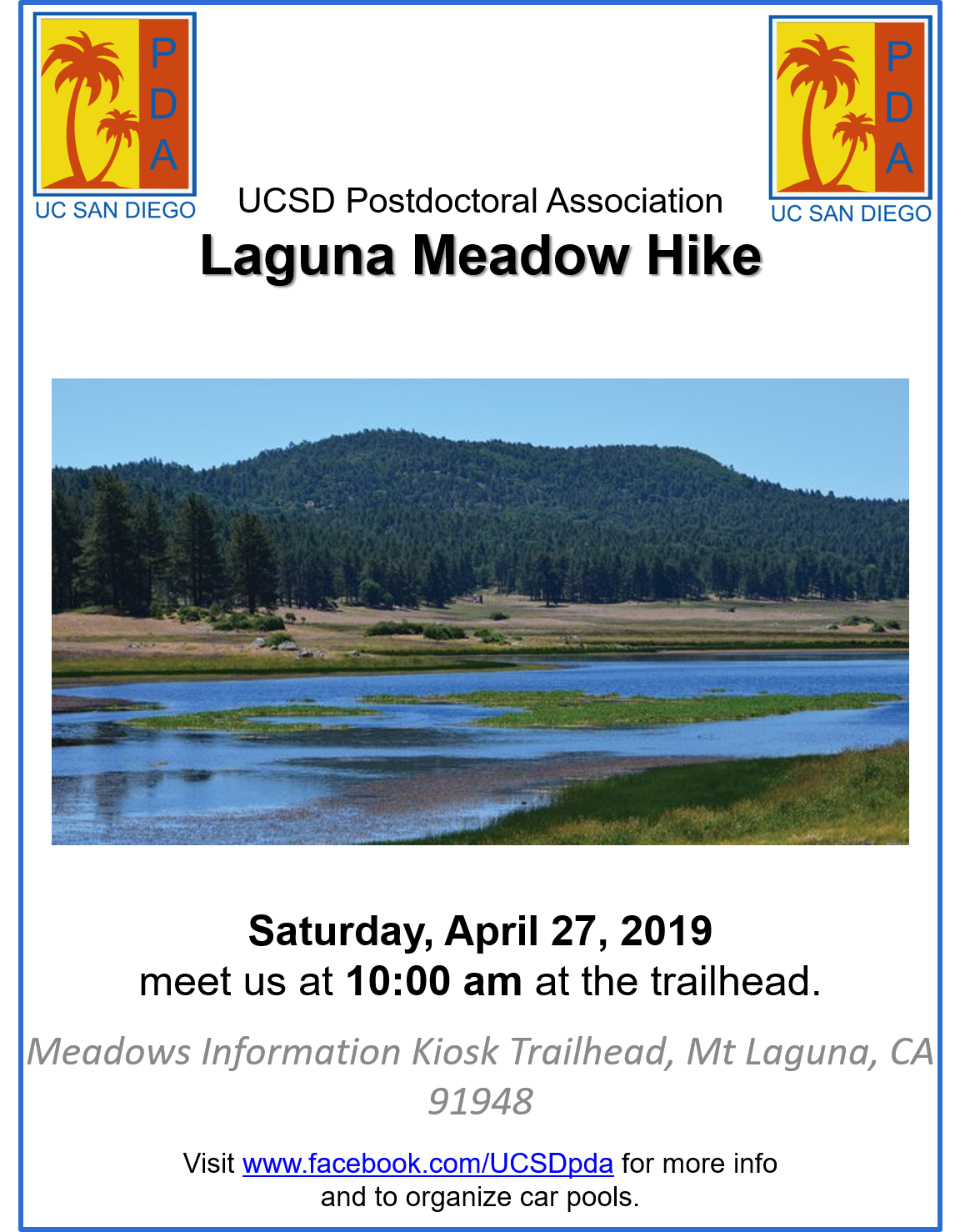 Spend a day in nature and join us for a hike in the beautiful Laguna Mountain region. The trail is 7.9 miles long and rated as easy to moderate. An adventure pass is required for this hike. Please make sure to get it ahead of time. The costs are $5 for a day (https://www.myscenicdrives.com/store/item/forest-passes/southern-california). After the hike we propose to meet in the Pine House Café&Tavern (9849 Sunrise Hwy, Mt Laguna, CA 91948)
Distance: 7.9 miles
Elevation gain: 590 feet
Time: ~4h hiking time
When: Saturday, April 27th, 2019 at 10:00 am
Meeting point: Meadows Information Kiosk Trailhead, Mt Laguna, CA 91948
Find more information, RSVP and organize car pools on our facebook page: www.facebook.com/UCSDpda
General Atomics Visit, May 16th 2019 
Dear UCSD postdocs,
You are invited to the Exposure to Industry Program (EIP) visit the DIII-D National Fusion Facility at General Atomics.
Date:       Thursday, May 16th, 2019
Time:       1:00pm-3:00 pm
Address: Building G34, 3483 Dunhill St, San Diego, CA 92121
The participants will be introduced to plasma and fusion concepts developed at General Atomics and tour the control room, life-size cross section of the DIII-D device, and see the DIII-D device itself. If time permits, we will also visit the Electron Cyclotron Heating (ECH gyrotrons: 1 million W microwave generators) area and a magnet power supply area.
Limited spots are available.  To apply, please fill out the following Google Form by Wednesday, April 24th.
Google form: https://forms.gle/Z92eCWk1DqCdx3wj7
Friends Dinner Social, April 20th 2019
Friends Dinner Socials are held several times a year providing members from our Friends, international visitor, university and local communities an opportunity to meet and mingle during a casual, family-friendly, affordable evening. This event is a great way to spend an evening with friends and/or making new friends! The evening begins with a reception and transitions to a seated dinner (open seating) that often concludes with some type of entertainment or presentation that ties in to the thematic cuisine. The program was begun in 2013 by Katya Newmark, Dagmar Bočaková, and Audrey Leriche and became an instant success.
Dinners are held in the panoramic 15th floor of Village West located at the north end of the UCSD campus.  Reservations are required. 
Upcoming Dinner Social:
Saturday, April 20, 2019, Friends Dinner Social: Spain (see FLYER)
Time:

 

6:00 pm
Location:

 

The Village 15th Floor Meeting Rooms
Price: Friends members price is $25, UCSD Degree Students & International Scholars are $20, Community members are $30; children 5 - 17 are $10; and children under 5 are free
After dinner performance by UC San Diego's Dean of Undergraduate Education and Linguistics Professor, John Moore on guitar joined by two of San Diego's top flamenco performers. 
Reservations are due by Friday, April 12th and can be made via Eventbrite
Eagle Rock hike
Spend a day in nature and join us for a hike to iconic Eagle Rock near Warner Springs. The trail is 6.4 miles long and rated as easy to moderate. After the hike we propose to meet at Julian Pie Company in Santa Ysabel.
Distance: 6.5 miles
Elevation gain: 988 feet
Time: ~4h hiking time
Date: Saturday, March 23th, 2019

Time: 10:00 am
Meeting point:  Eagle Rock Trailhead, Pacific Crest Trail, Warner Springs, CA 92086.
Coordinates 33.272980, -116.645524
Find more information, RSVP and organize car pools on our facebook page: www.facebook.com/UCSDpda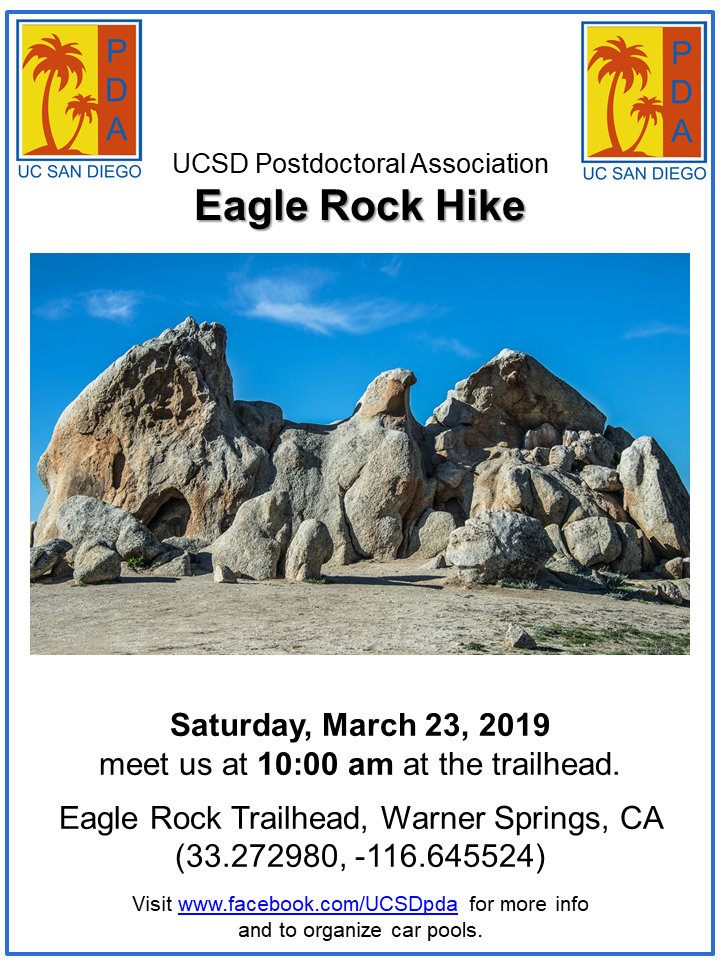 Board Games Night

Sign up on Board Game Night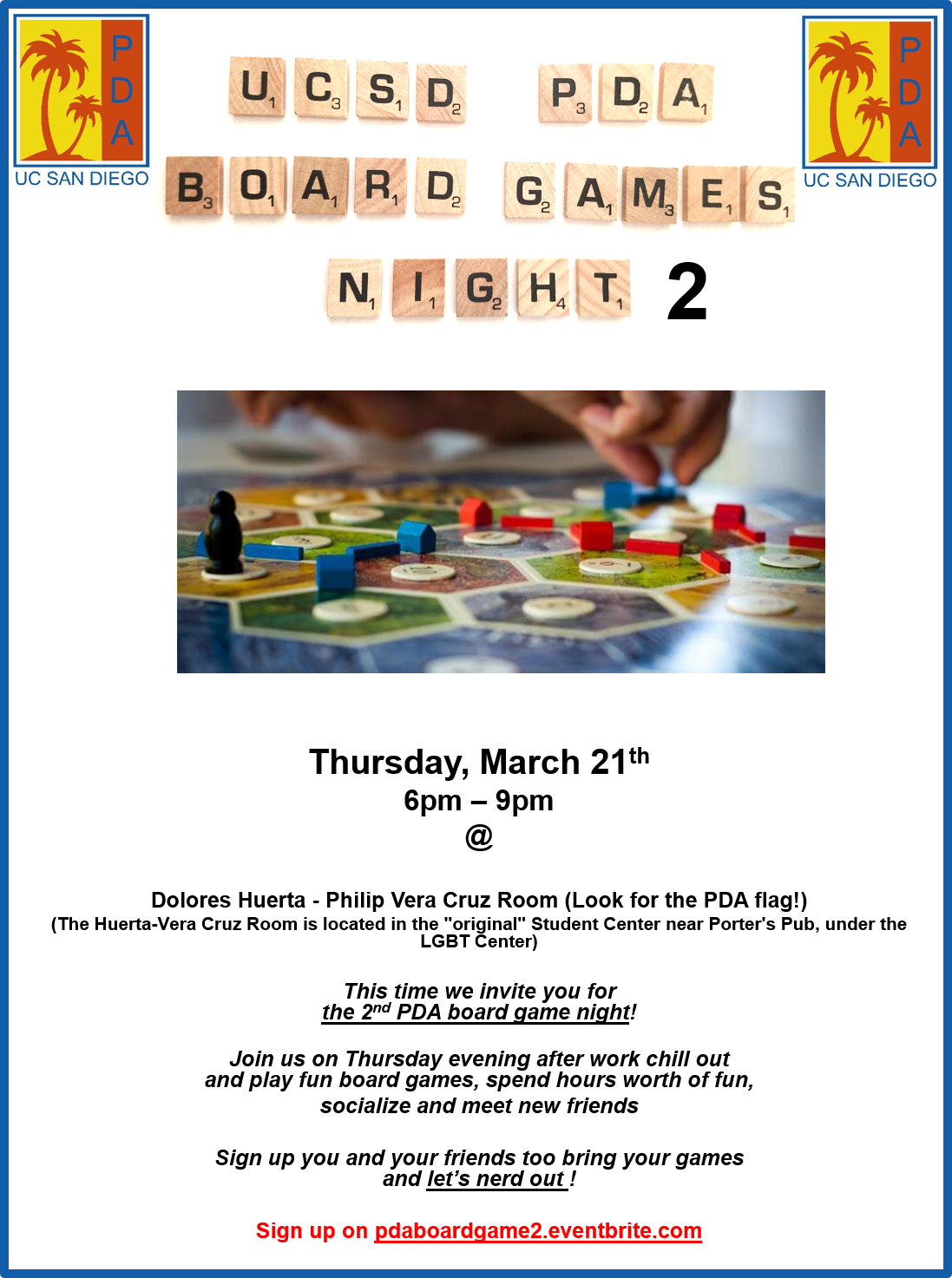 Hockey Night 
Date: March 8th, 2019
Time: 7:00 pm
Location:  Pechanga Arena San Diego
Please register now here: hockeypda.eventbrite.com 
Once we have the count we will try to negotiate a group discount.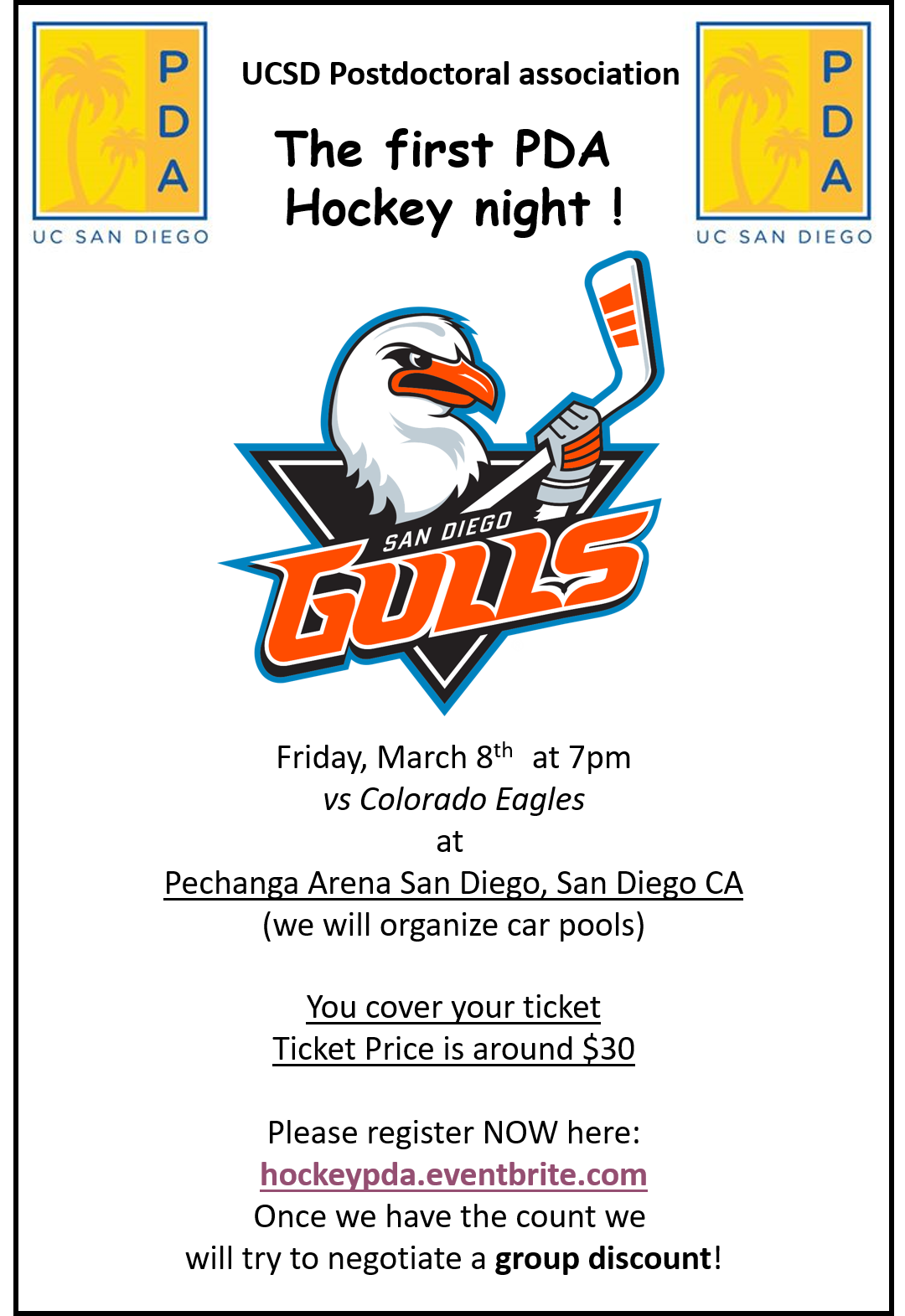 Seventh Annual New Year's Networking Event
Date: February 4th, 2019
Time: 7:00 – 10:00 pm
Location:  Mike Hess Brewing Company in North Park
Please join us at our Seventh Annual New Year's Networking Event on Monday, February 4th from 7-10pm at Mike Hess Brewing Company in North Park.
Ring in the new year with fellow postdocs and industry professionals from around the area! In collaboration with postdoc associations at The Scripps Research Institute, La Jolla Institute for Immunology, Salk Institute, & Sanford Burnham Prebys Medical Discovery Institute, we invite you to join us for a New Year's celebration and networking social.
Make networking your resolution, and enjoy free food and free drinks for the first 100 registered attendees!! Register today! https://pdanyn.eventbrite.com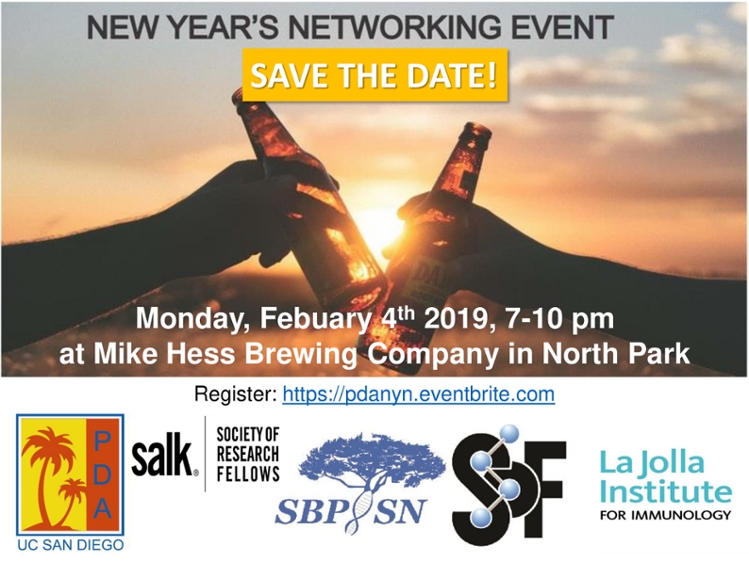 2018 Events
UCSD PDA Movie Night
Holidays are coming and the UCSD PDA will host a Christmas movie night!
Date: Thursday, December 18th, 2018
Time: 7:00 – 10:00 pm
Location:  Martin Johnson House (Scripps Institution of Oceanography)
There will be some activities, food and drinks from 7 pm. The movie starts at 7:30 pm. Which movie should we watch? Well, you have the opportunity to pick one of the following: 1) "Die Hard" (1988) John McClane, a New York policeman goes to L.A. on Christmas to regain the love of his wife. You wouldn't believe what happened next 2) "Love Actually" (2003) Follows the intertwined stories of very different couples in Christmastime London. 3) "Elf" (2003) A man raised like an elf in the North Pole goes to New York to meet his family. 4) "Arthur Christmas" (2011) Arthur Claus embarks on a quest to save the Christmas of a young girl that hasn't received her present. 
Vote here for the movie you would like to watch. The movie that we will show will be announced on Friday 12/14!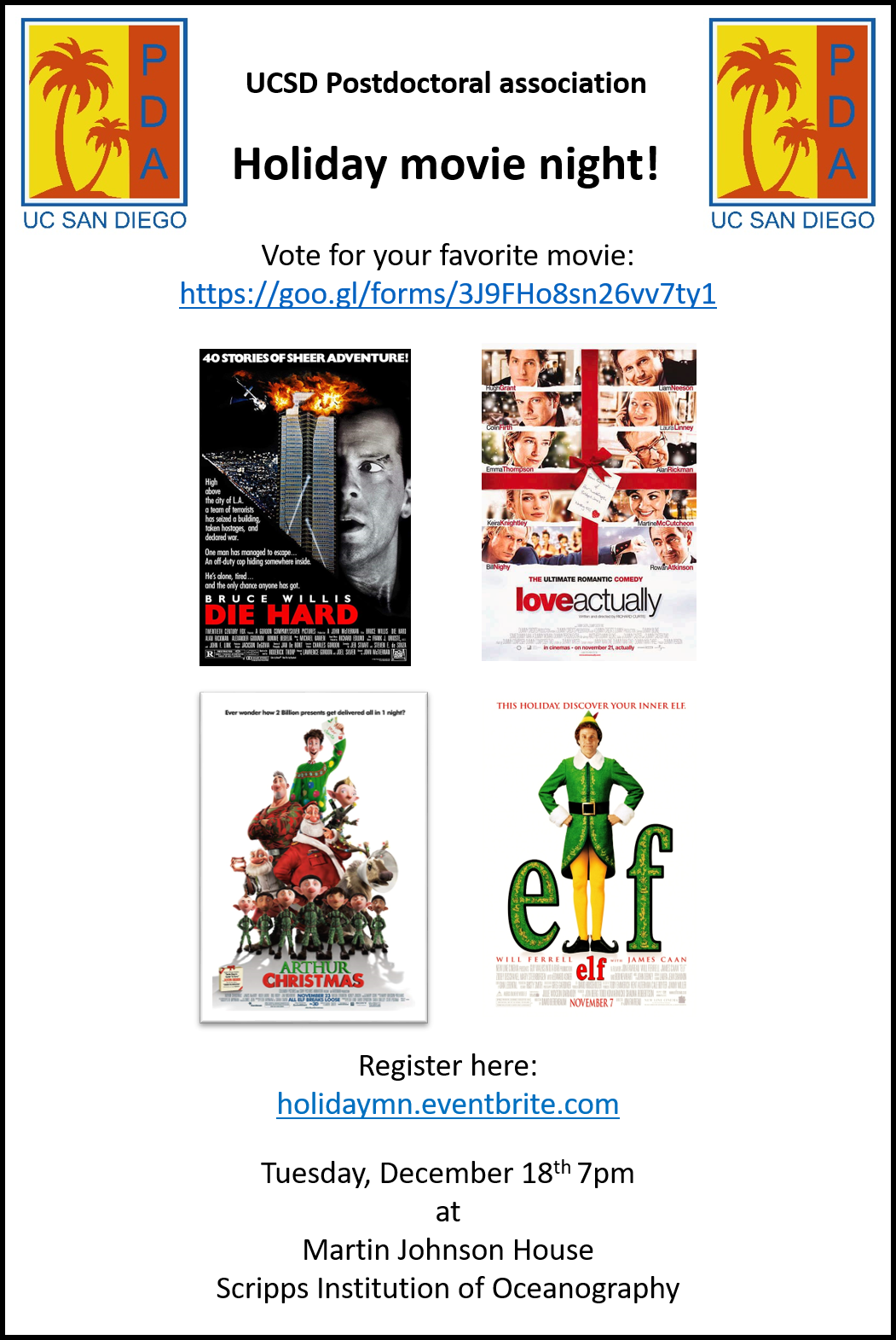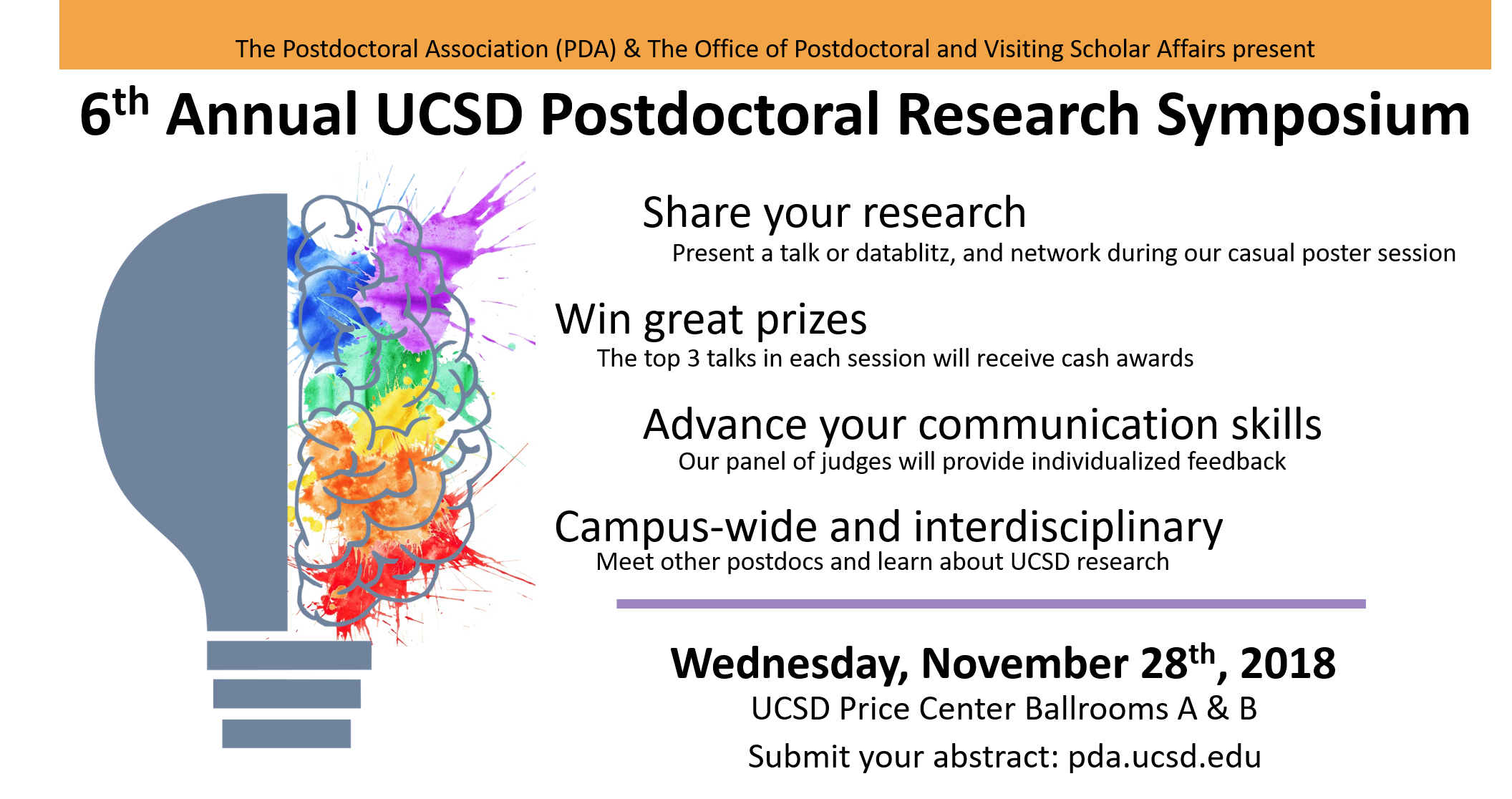 The campus-wide Postdoc Research Symposium is back again on November 28th 2018 (Wednesday, 11 am - 4 pm).
This forum will be a perfect opportunity for you to present your work to your peers and industry professionals, discuss and improve your communication skills, network and establish new collaborations, and also win presentation awards and cash prizes.
So, take advantage of this amazing opportunity and submit your abstracts now!! Abstract submission deadline is October 31st, 2018.
There will be sessions for Oral Presentation (5-7 m), Research Rave (2-3 m), and a casual networking poster session.
New this year, we are featuring a panel of judges who specialize in communication, who will be providing individualized feedback to every person who gives an oral presentation.
So please, join us for lunch and a fun day of presentations and networking! Presenters will be automatically registered for the Chancellor's Award Reception, which will follow the symposium.
If you have specific questions or are interested in being a judge, please email us at pdaresearch@ucsd.edu.
Program
10:30 AM- Registration and speaker and participant check in
11:00 - 11:30 AM- Keynote address
11:30 AM- 12:15 PM- Oral presentations Part 1
12:15 - 1:15 PM- Lunch
1:15 - 2:00 PM- Oral presentations Part 2
2:00 - 3:00 PM- Research Rave
3:00 - 4:00 PM- Poster Networking session
4:00 PM onwards- Chancellor's awards and Symposium presentation awards
We are looking forward to showcasing your research!
The UC San Diego Postdoctoral Association (PDA)
UCSD PDA South Clevenger Canyon hike
Find more information, RSVP and organize car pools on our facebook page: www.facebook.com/UCSDpda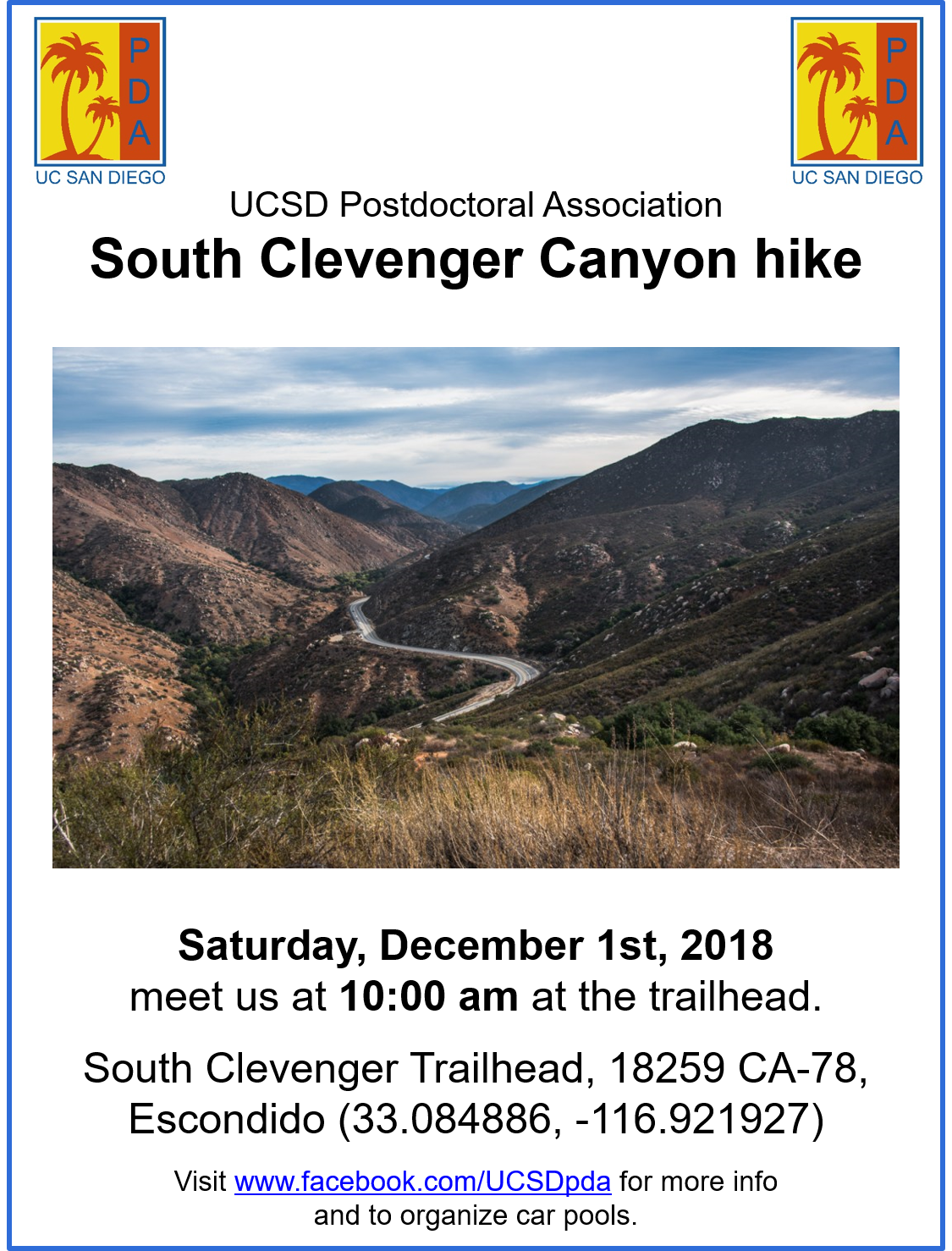 Postdoc Pub Night
Have a beer and hang out with fellow postdocs!  Meet new people!  Explore San Diego!
Organized by your Postdoctoral Association (PDA), Postdoc Pub Nights visits pubs in different neighborhoods of San Diego. Come join us!
Postdoc Pub Night at The Dog
Date: Thursday, December 6th, 2018
Time: 7:00 – 10:00 pm
Location:  4479 Everts Street, Pacific Beach