2018 Events
UCSD PDA Board Games Night

Sign up you and your friends too, please bring your games and let's nerd out!
Please RSVP pdaboardgame.eventbrite.com
If you can and be bringing some games, please RSVP with
RSVP + I WILL BRING SOME GAMES ticket
Best, PDA Community Engangement Commitee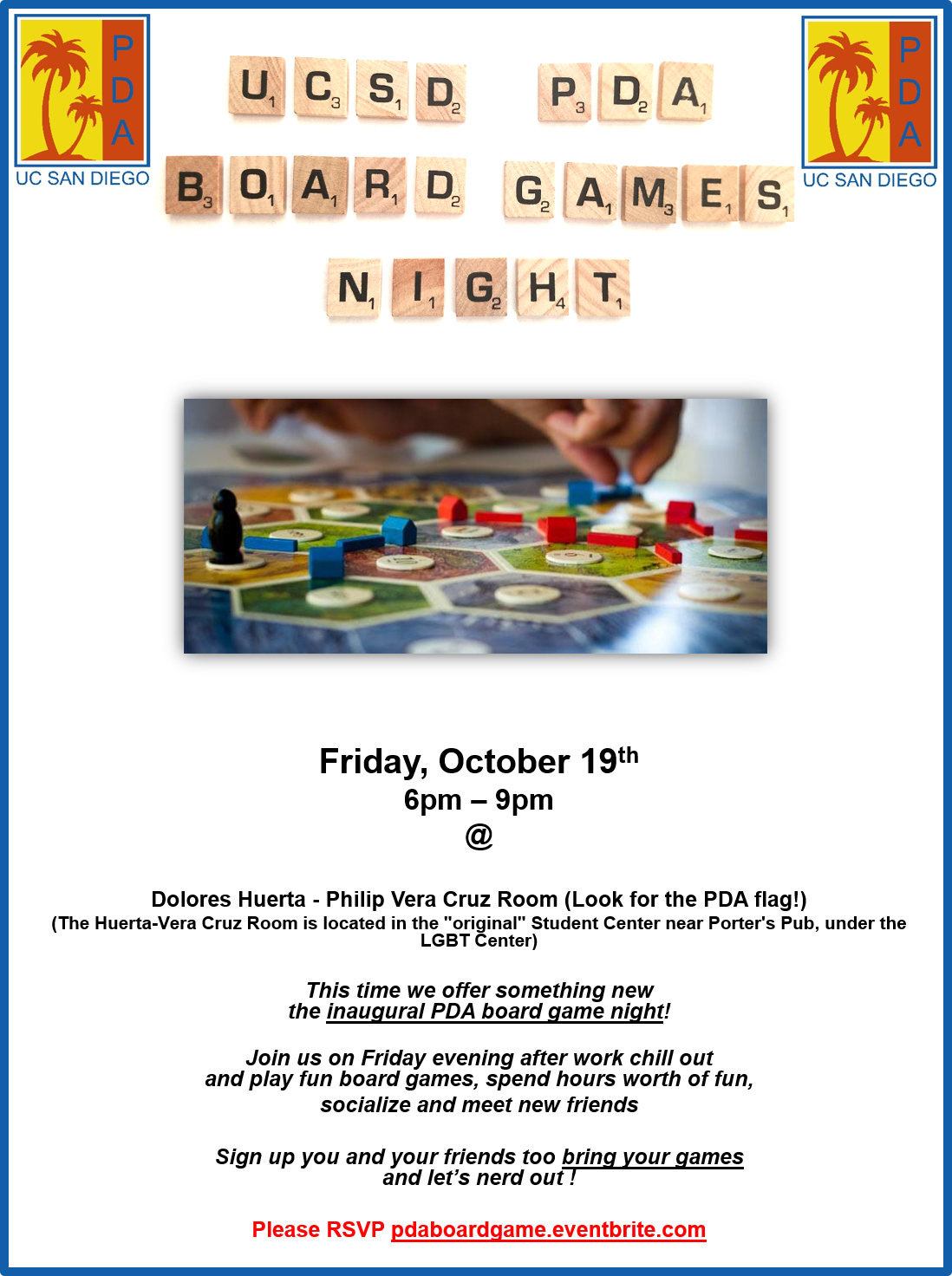 6th Annual Post-doc research symposium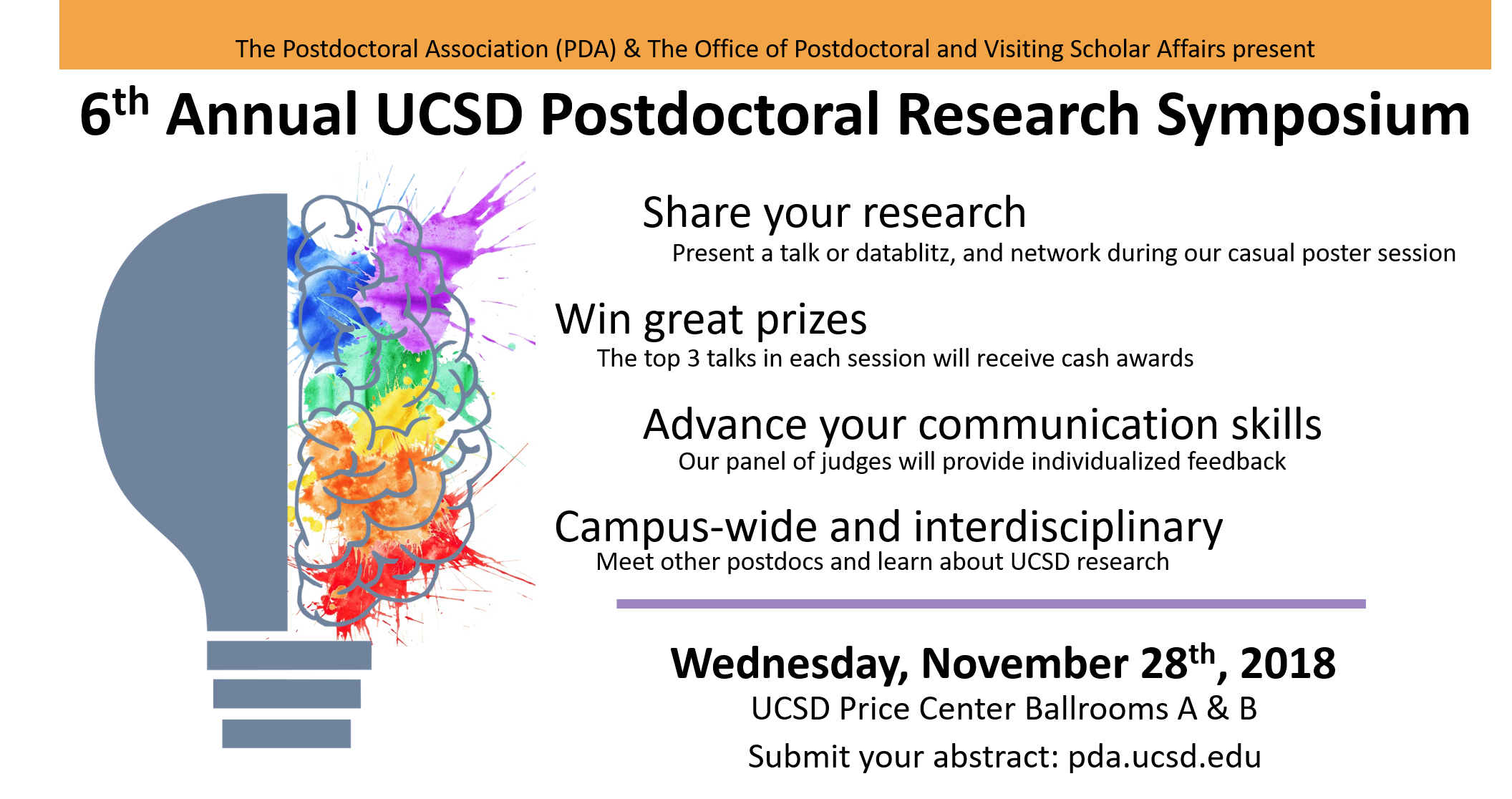 The campus-wide Postdoc Research Symposium is back again on November 28th 2018 (Wednesday, 11 am - 4 pm).
This forum will be a perfect opportunity for you to present your work to your peers and industry professionals, discuss and improve your communication skills, network and establish new collaborations, and also win presentation awards and cash prizes.
So, take advantage of this amazing opportunity and submit your abstracts now!! Abstract submission deadline is October 31st, 2018.
You can submit your abstracts here.
There will be sessions for Oral Presentation (5-7 m), Research Rave (2-3 m), and a casual networking poster session.
New this year, we are featuring a panel of judges who specialize in communication, who will be providing individualized feedback to every person who gives an oral presentation.
So please, join us for lunch and a fun day of presentations and networking! Presenters will be automatically registered for the Chancellor's Award Reception, which will follow the symposium.
If you have specific questions or are interested in being a judge, please email us at pdaresearch@ucsd.edu.
Program
10:30 AM- Registration and speaker and participant check in
11:00 - 11:30 AM- Keynote address
11:30 AM- 12:15 PM- Oral presentations Part 1
12:15 - 1:15 PM- Lunch
1:15 - 2:00 PM- Oral presentations Part 2
2:00 - 3:00 PM- Research Rave
3:00 - 4:00 PM- Poster Networking session
4:00 PM onwards- Chancellor's awards and Symposium presentation awards
We are looking forward to showcasing your research!
The UC San Diego Postdoctoral Association (PDA)
Postdoctoral Association (PDA) will be having a Beach day!
Time: Oct 13th 1:00 - 7:00 pm
Location: North side of La Jolla Shores park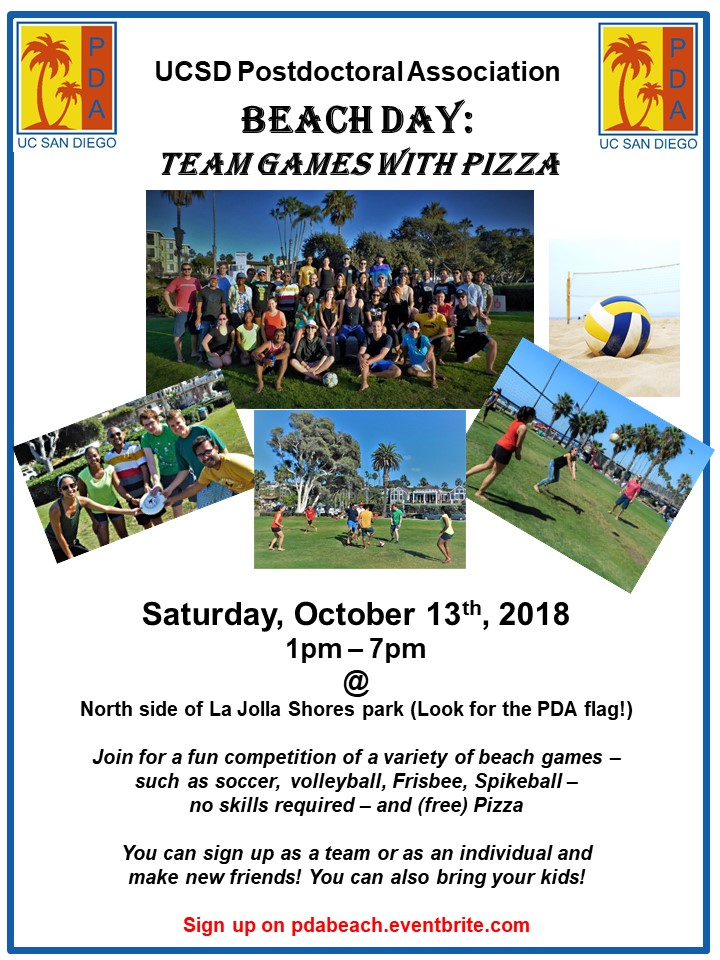 PDA Open House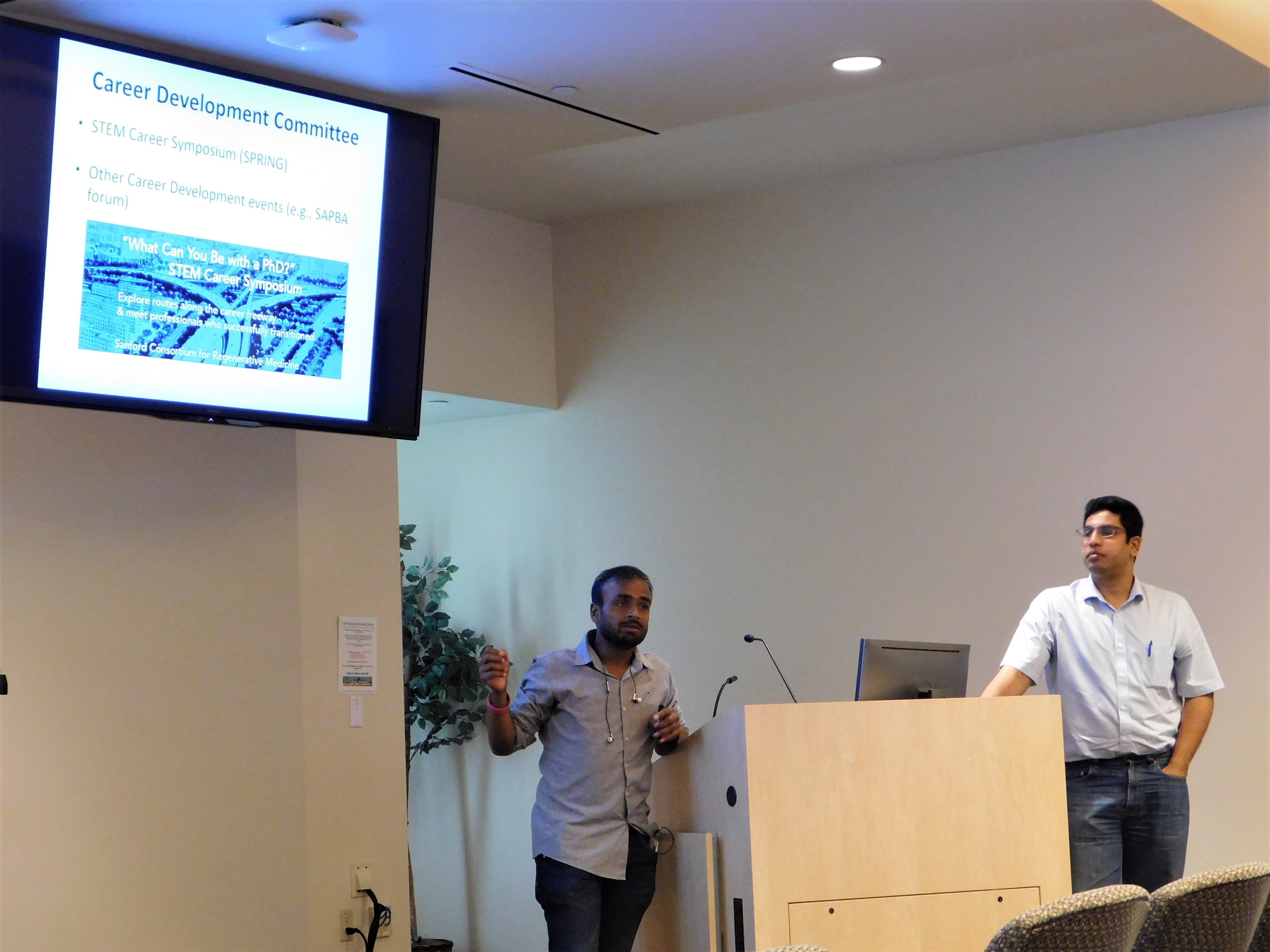 Postdoctoral Association (PDA) will be having an Open House during Postdoc Appreciation Month for postdocs to learn about the goals, events and opportunities for postdocs at UC San Diego. A light lunch will be served. Join us to out how you can be a part of your postdoc community!
Time: Sep 20th 12 - 1:30 pm
Location: Bear room Price Center 
Volcan Mountain hike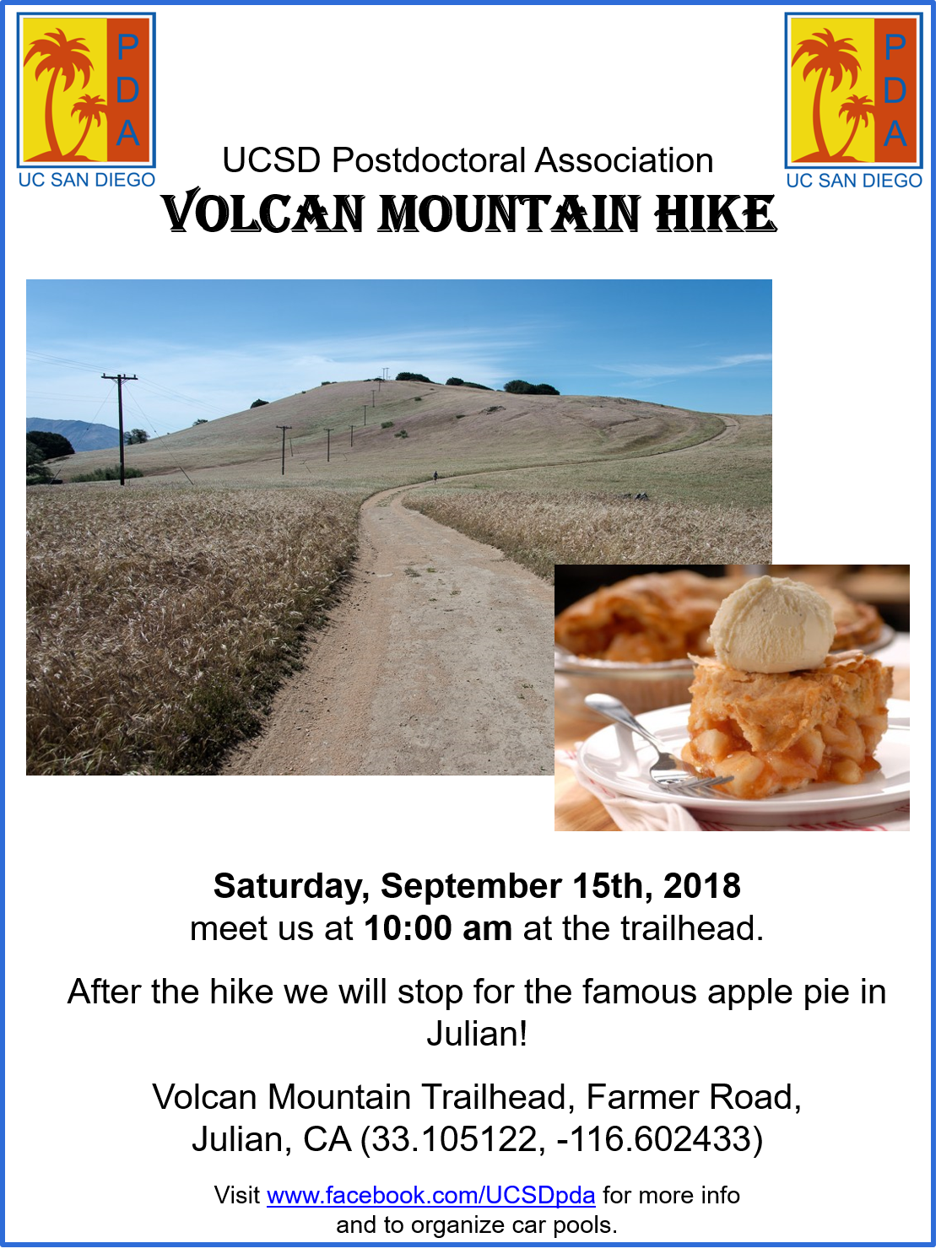 Spend a day in nature and join us for a hike to Volcan Mountain summit near Julian. The trail is 5.2 miles long and will lead us through grassy fields, oaks and conifers up to Volcan Mountain summit and great views. The hike is rated as moderate. After the hike we propose to meet in Julian and enjoy some apple pie.
When: Saturday, September 15th, 2018 at 10:00 am
Meeting point: Volcan Mountain Trailhead, Farmer Road, Julian, CA. Coordinates 33.105122, -116.602433
Find more information, RSVP and organize car pools on our facebook page: www.facebook.com/UCSDpda
Postdoc Pub Night
Have a beer and hang out with fellow postdocs!  Meet new people!  Explore San Diego!
Organized by your Postdoctoral Association (PDA), Postdoc Pub Nights visits pubs in different neighborhoods of San Diego. Come join us!
Postdoc Pub Night at Bottlecraft Sorrento Valley
Date: Thursday, September 6, 2018
Time: 6:00 – 9 pm
Location:  Bottlecraft, 11055 Roselle St, San Diego, CA 92121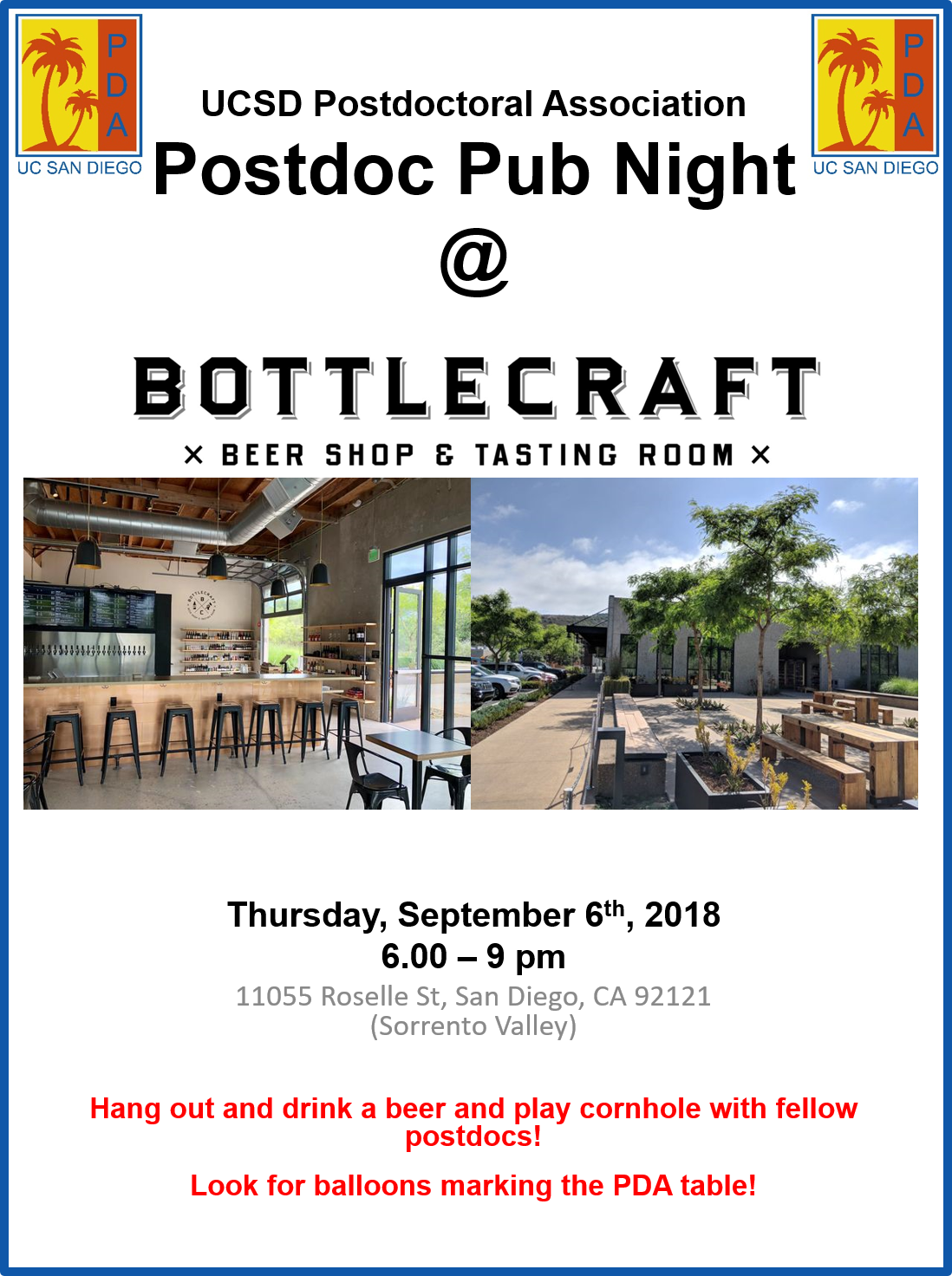 Date: Thursday, August 16th (10am-2pm)
Location: UCSD, School of Medicine East Lawn, UCSD
Postdoc Pub Night
Date: Thursday, April 26th (7pm-10pm)
Location: 7536 Fay Ave, La Jolla, CA 92037

New Year´s Newtworking Party 2018
Ring in the new year with fellow postdocs and industry professionals from around the area! In collaboration with postdoc associations at The Scripps Research Institute, La Jolla Institute for Allergy and Immunology, Salk Institute & Sanford Burnham Prebys Medical Discovery Institute, we invite you to join us for a New Year's celebration and networking social. Please join us at our Sixth Annual New Year's Networking Event on 

Monday, January 29th from 7 - 10pm

 at Mike Hess Brewing Company in North Park. Make networking your resolution, and enjoy free food (and free drinks for the first 100 registered attendees)!! We hope you embrace this unique opportunity to meet postdocs and alumni from neighboring institutions and local companies in a welcoming atmosphere.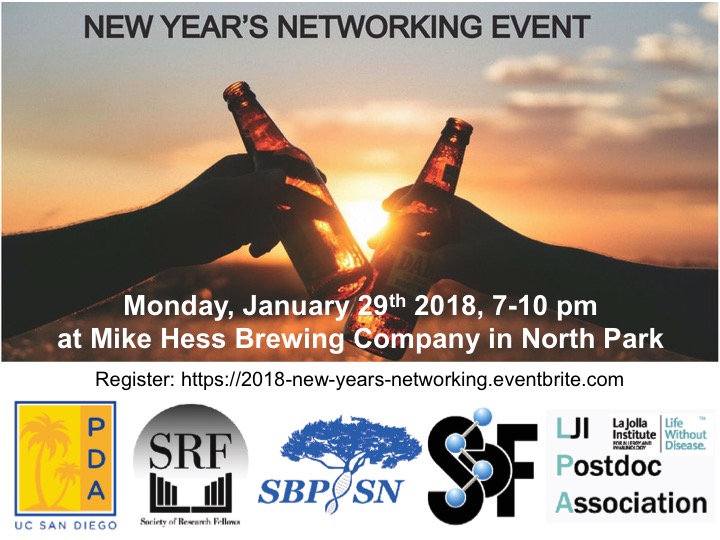 Fifth Annual Postdoc Research Symposium
Date: Wednesday, November 29th (9am-12pm)
Location: UCSD Price Center Ballrooms A&B(off Rupertus Lane, main campus)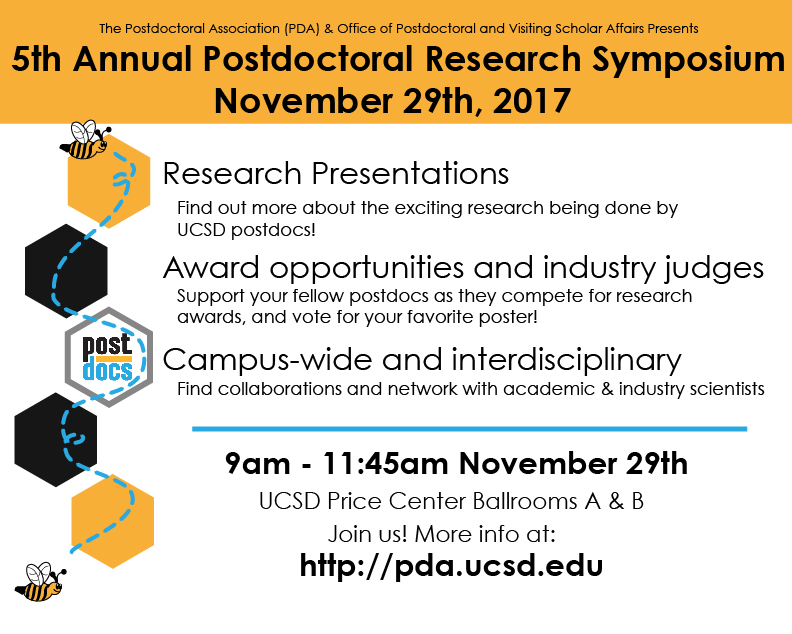 EVENT DESCRIPTION
The Postdoctoral Association (PDA) along with the Office of Postdoctoral and Visiting Scholar Affairs will hold the Fifth Annual Postdoc Research Symposium followed by the Postdoc Appreciation Luncheon on Wednesday, November 29th, 2017. All postdocs at UC San Diego are invited to present their research. Faculty, graduate students, undergraduates and staff are encouraged to attend.
The Research Symposium is designed to bring together fellow postdoctoral scholars across disciplines to discuss their research to a general audience. During this symposium, you will have the opportunity to make new contacts for networking and collaborations to advance your career and boost your CV by winning an award for your presentation skills.
Submit an abstract and take advantage of this unique opportunity! Cash awards have been made available by the PDA to postdocs that best present their research, in either poster or oral presentation format, to a broad audience of peers, industry professionals and faculty.
SYMPOSIUM PROGRAM

8:30a                     Registration/check in & poster setup (outside Price Center Ballrooms A & B)
9:00a                     Opening remarks (Price Center Ballroom B)
9:05 - 10:00a         Oral Presentations (Ballroom B)
10:05 - 10:45a       Poster Slam (Ballroom B)
10:45 - 11:45a       Poster Session (Ballroom A)
11:45a                   Check-in for the Postdoc Appreciation Luncheon begins
(Postdoc presenters, judges, and volunteers are automatically registered for the luncheon – all other postdocs must register at: https://www.eventbrite.com/e/postdoc-appreciation-luncheon-and-award-ceremony-2017-tickets-39713819102)
PRESENTATION COMPETITION DETAILS
Poster Presentations
Present your research in poster form! Maximum poster dimensions are 36x48 inches.
Poster competition: there will be 4 poster winners, each receiving a $100 prize.
Poster Slam Presentations
Poster slam presentations are brief presentations meant to drum up excitement about your research! Poster slam presentations will be 2min long, with a maximum of 3 slides per presenter. Poster slam presenters are encouraged to bring a poster to the poster session as well.
Poster slam competition: There will be 2 winners for poster slam presentations, each receiving a $100 prize.
Oral Presentations
Selected abstracts will be invited to give an oral presentation at the symposium. Presentations will be 5 minutes.
Oral presentation competition: There will be 3 winners: 1st place ($300), 2nd place ($200), and 3rd place ($100).