Archived Events
Postdoc Pub Night
Date: Thursday, December 7th (7pm-10pm)
Location: 4479 Everts Street, Pacific Beach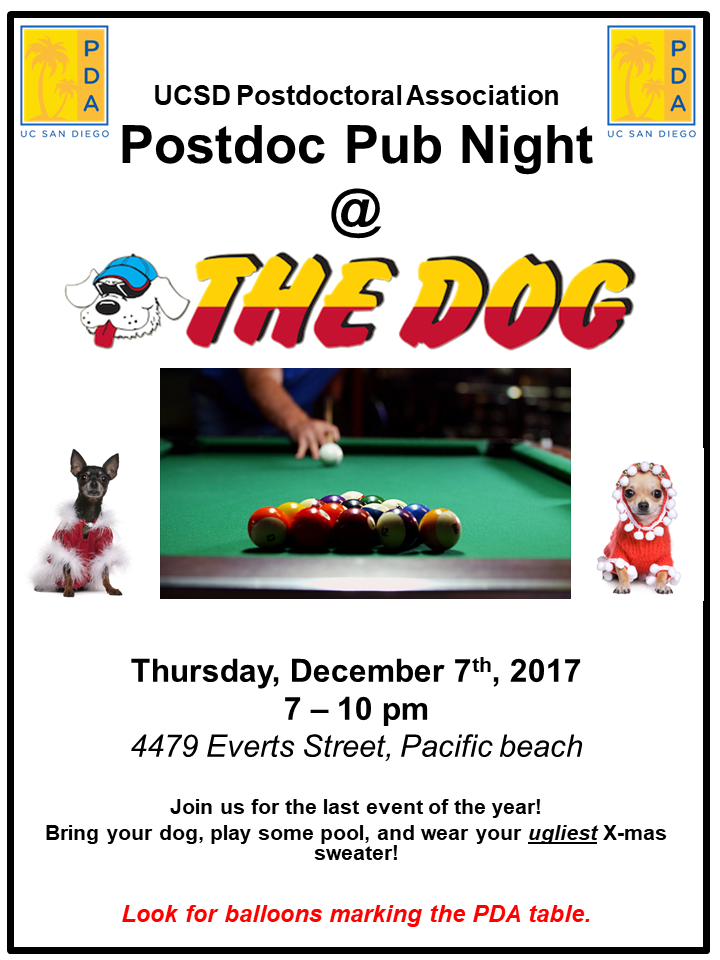 Date: October 24, 2017 (7 PM)
Location: Martin Johnson House, SIO Campus (8840 Biological Grade, La Jolla)
*You have chosen! The Witch won by a narrow margin over the competition! Thank you to everyone who voted!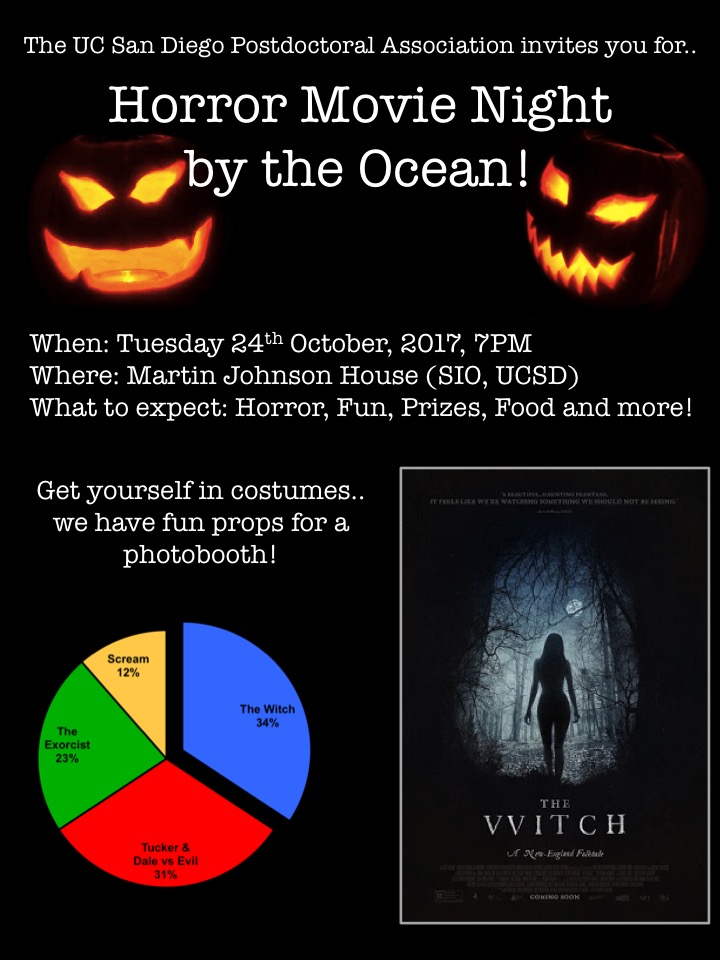 4th Annual Postdoctoral Research Symposium
Date: Tuesday, November 1, 2016
Abstracts Due: Thursday, September 29, 2016 at 10:00 PM (submit your abstract here!)
Location: Price Center Ballrooms A&B
CONGRATULATIONS TO ALL OF OUR WINNERS!!! Click here to see their names!
EVENT DESCRIPTION
The Postdoctoral Association (PDA) along with the Office of Postdoctoral and Visiting Scholar Affairs will hold the Fourth Annual Postdoc Research Symposium followed by the Postdoc Appreciation Luncheon on Tuesday, November 1, 2016. All postdocs at UC San Diego are invited to present their research. Faculty, graduate students, undergraduates and staff are encouraged to attend.
The Research Symposium is designed to bring together fellow postdoctoral scholars across disciplines to discuss their research to a general audience. During this symposium, you will have the opportunity to make new contacts for networking and collaborations to advance your career and boost your CV by winning an award for your presentation skills.
Submit an abstract and take advantage of this unique opportunity! Cash awards have been made available by the PDA to postdocs that best present their research, in either poster or oral presentation format, to a broad audience of peers, industry professionals and faculty.
ABSTRACT SUBMISSION
Eligibility
To be eligible for abstract submission, you have to be a full-time postdoctoral scholar as represented by the title code 3252 (Postdoctoral Scholar-Employee), 3253 (Postdoctoral Scholar-Fellow) or 3254 (Postdoctoral Scholar-Paid Direct) at UC San Diego. Also, presented research must have been conducted at UC San Diego, and not at a previous institution to be eligible. More than one abstract can be submitted but only one per postdoc can be selected for a Research Award.
Guidelines
An abstract can only be submitted online via the UC San Diego Postdoctoral Association website at this link (coming soon). Abstracts submitted by fax, email or post will not be considered.
Abstract must contain the following:
Background
Aims
Methods
Results
Conclusions
Abstracts with preliminary results or previously presented are eligible for submission as long as they were conducted at UC San Diego.
Abstract must be written in English. Present your research in an accessible way for a broad audience, as this symposium is for all disciplines and departments of the UC San Diego community.
Applicants selected for oral presentation will be asked to provide a 5-minutes oral presentation with an overview of their research, highlighting relevance, significance and potential impact of the study.
Results are not required for a Research Award; research data, methods or question are all eligible for submission. Postdocs participating in the Research Symposium will be able to pre-register for the Postdoc Appreciation Luncheon, which sold out tickets last year.
Abstract submission must meet all the following criteria:
Full-time postdocs at UC San Diego may submit an abstract (limited to 500 words)
Presented research has been conducted at UC San Diego, and not at a previous institution
Only one proposal may be submitted for Research awards.
You have the option of choosing to present your data at any of the following: oral presentation, poster slam and poster presentation
The best 8 abstracts will be selected for a 5-minute oral presentation and the best three presenters will receive a Research Award.
Anyone not selected for Research Award will be invited to present a poster and compete for Poster Awards.
Two postdocs may not present the same research. Issues of authorship need to be resolved with faculty mentor before the abstract is submitted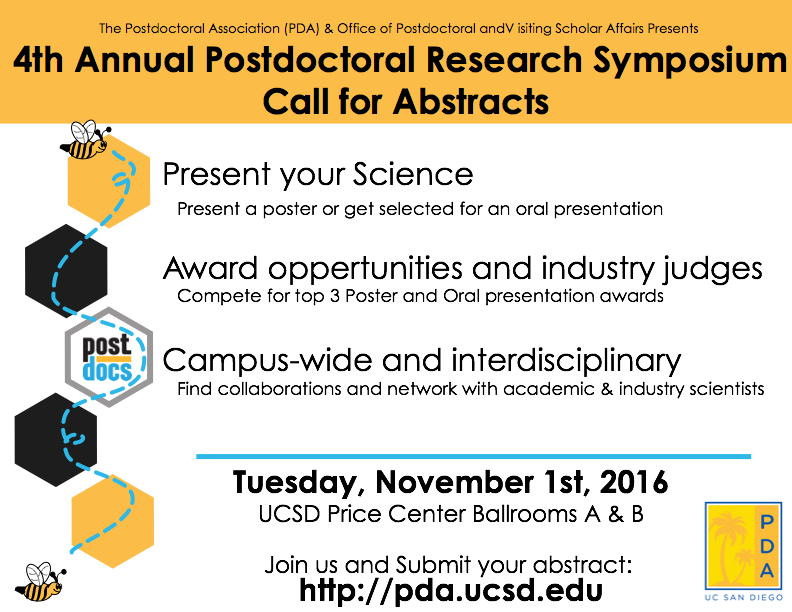 ---
Third Annual "What Can You Be With a PhD?" STEM Career Symposium
Conference Proceedings for the STEM Career Symposium can be found here! 
Photos can be found here!
Date: Saturday, March 26, 2016 (event has passed)
Time: 8:00 am - 7:00 pm
Location: Sanford Consortium for Regenerative Medicine
Dress Code: Business Casual
Price: $40 - $50
Conference Details:
On behalf of the Postdoctoral Association (PDA) of UC San Diego, Salk, Sanford Burnham, Scripps, and our sponsors, we would like to invite you to our Third Annual "What Can You Be with a PhD?" STEM Career Symposium!  This unique event is designed to help you, future innovators and leaders, explore a wide range of career opportunities, including those outside the traditional academic career track. 
As fellow PhD scientists, the creators of this Symposium share the same career questions and dilemmas, and have worked to address these questions by bringing resources directly to our community.  This one-day event will feature a variety of career paths from both public and private sectors. Importantly, in our interactive sessions you will have the opportunity to speak with professionals who have successfully transitioned outside of academia. Furthermore, in response to the overwhelmingly positive feedback received from our previous Symposium, this year will feature an additional session covering Research and Development in Non-Biotech, providing you with even more information to help guide your future.  We hope you will take advantage of what the Symposium offers as you progress in your career search and discover your full potential!   
Download Short Agenda HERE
Download Full Agenda HERE
Questions? Contact us at pdacareer@ucsd.edu.  
This event was organized by the following groups: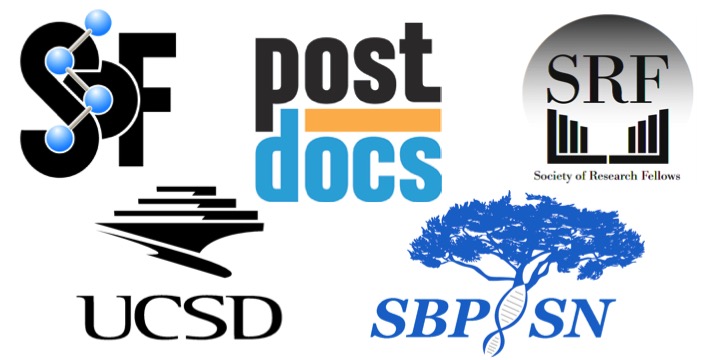 We are grateful to the following companies and organizations for their sponsorship and support: