2016 Events
Postdoc Happy Hour
Date: Tues, Dec 13th, 2016 (6-9 PM)
Location: Alesmith Brewery (9990 AleSmith Ct.)
Please join us for some beer and meet more postdocs!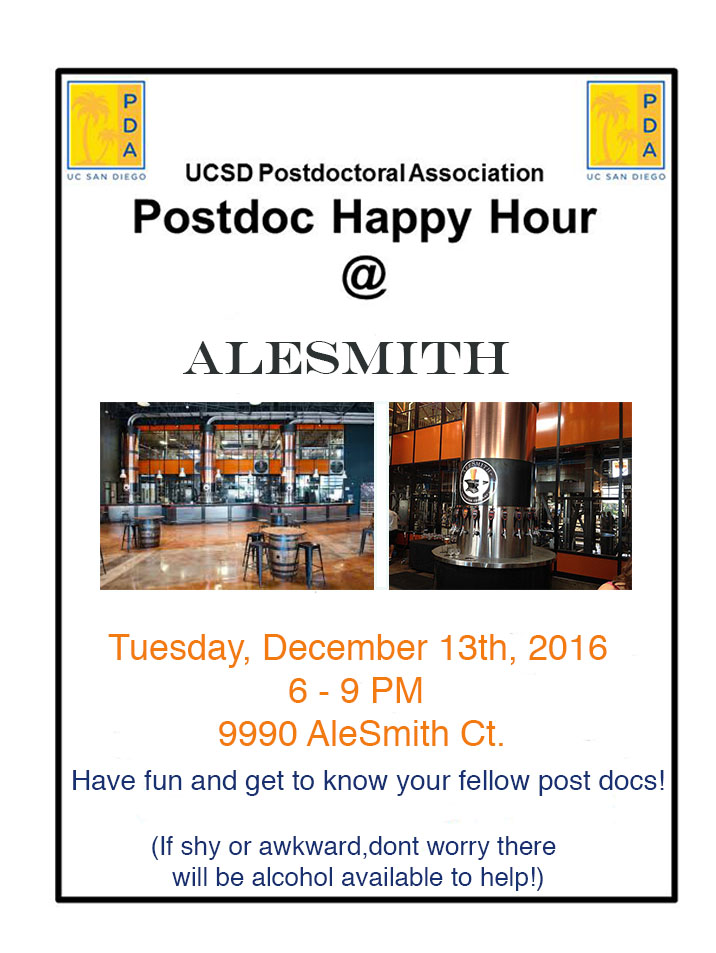 ---
Movie Night By the Ocean
The UCSD PDA invites you to the second and last MOVIE NIGHT BY THE OCEAN of the year.
We'll be by the Martin Johnson House (Scripps Institution of Oceanography).
There will be snacks and drinks from 6.00 PM, the movie starts at 6.30 PM.
Which movie!? Well, you should hurry up and choose among the following six masterpieces.
"All the President's Men"
A political thriller about the two journalists investigating the Watergate scandal. Starring Robert Redford and Dustin Hoffman, won four Academy Awards (Best Art Direction, Best Adapted Screenplay, Best Sound, Best Supporting Actor).
https://www.rottentomatoes.com/m/all_the_presidents_men
"Che: Part one (the Argentine)"
A biopic about the revolutionary Ernesto "Che" Guevara. Directed by Steven Soderbergh (Erin Brockovich, Traffic, Ocean's 11) and starring Benicio del Toro, which won the Best Actor Award at the Cannes Film Festival for his .
https://www.rottentomatoes.com/m/1221112-che
"An Inconvenient Truth"
A candid, powerful and informative documentary about Al Gore's campaign to educate citizens on global warming. Won two Academy Awards (Best Documentary Feature and Best Original Song).
https://www.rottentomatoes.com/m/inconvenient_truth/
"Investigation of a Citizen Above Suspicion"
A dramatic, psychological, black-humored satire on corruption in high office, telling the story of a top police officer who kills his mistress, and then tests whether the police would charge him for this crime. This crime drama won the Academy Award for Best Foreign Language Film.
https://www.rottentomatoes.com/m/investigation_of_a_citizen_above_suspicion
"Good Bye, Lenin!"
A funny and poignant social critique of German reunification. Soundtrack composed by Yann Tiersen (Amelie).
https://www.rottentomatoes.com/m/good_bye_lenin/
"The Baader Meinhof Complex"
Intricately researched and impressively authentic slice of modern German History, about the early years of the West German far-left militant group the Red Army Fraction. Nominated for Best Foreign Language Film.
https://www.rottentomatoes.com/m/baader_meinhof_complex
Make your wise choice, movie power!
Postdoc Open Mic Night @ Bella Vista 
Wednesdays, 2016 | August 17th, September 14th, October 19th, November 16th
Join us for our 2nd season of Open Mic Night! This event fosters interaction among the people doing hands-on research in the San Diego area and local businesses, biotechs, and the general public.

Guest judges give brief talks (five-minutes each) to introduce their current ventures, followed by five-minute talks by postdocs. Speakers are selected from submitted abstracts (submit below!) by a committee formed by the organizing postdoc associations.

Talks are aimed at those with a limited scientific background, but contain sufficient detail to be of interest to scientists. Judges select winners based on their ability to communicate to a wide audience.

Time: 6 p.m. - 8 p.m.
Location: Bella Vista Caffe (alcove area near the Sanford Consortium auditorium)

For more information, contact postdocopenmicnight@gmail.com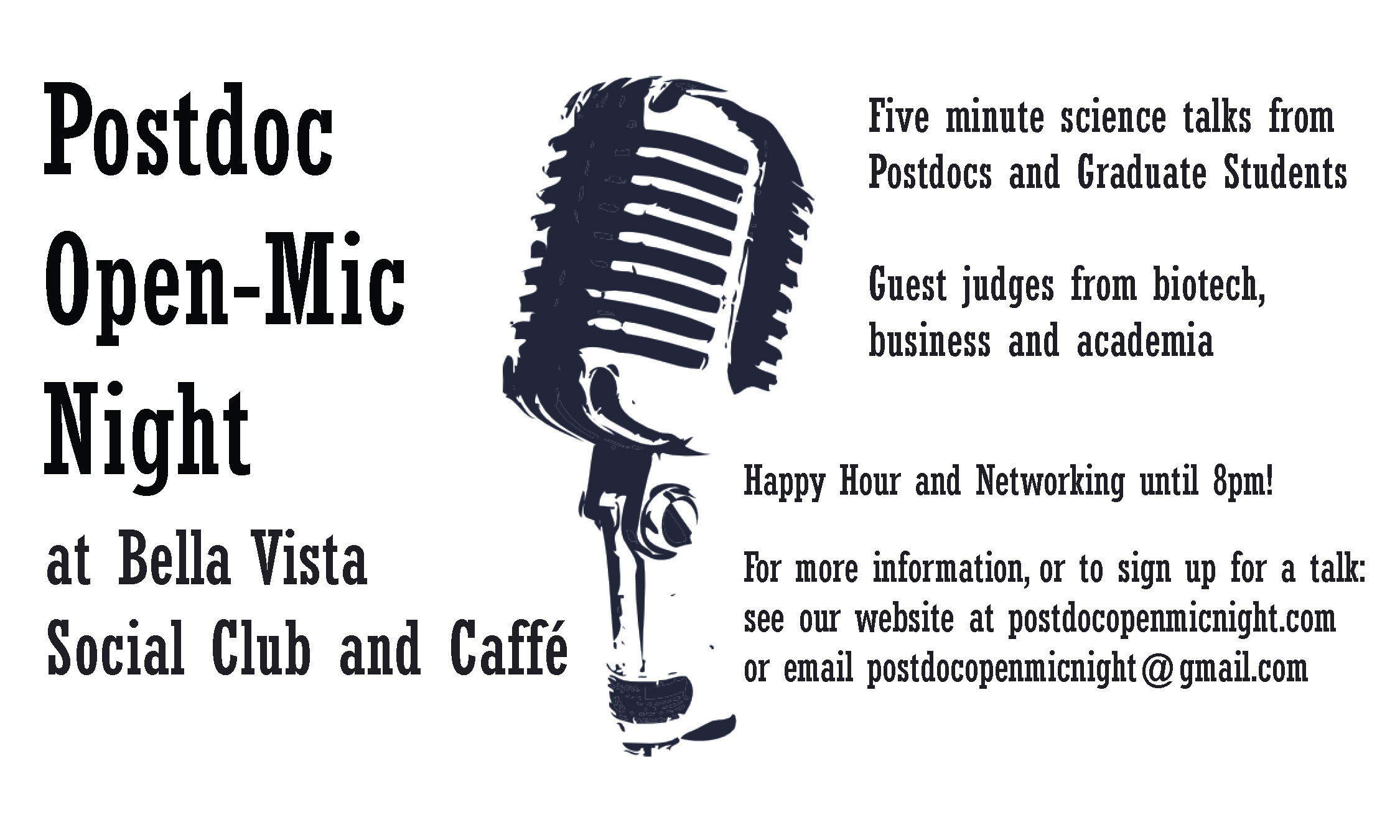 The best speakers will be selected to give a talk at a Bella Vista networking night in front of a general audience, so speakers should bear this in mind when preparing their talks. Please submit a 250 word abstract to summarize the subject of your talk.