2016 Events
6th Annual Postdoctoral Vendor Show
Wednesday, August 10, 2016
10AM - 2PM
School of Medicine East Lawn
The UC San Diego Postdoc Association (PDA) presents the 6th Annual Vendor Show on Wednesday, August 10th from 10am-2pm (School of Medicine East Lawn).
The show is one of the largest scientific vendor show on campus, a great chance to interact with exhibitors, and pick-up reagent samples and freebies for you!
The proceeds from the Vendor Show are the primary source of funding for the multitude of career development opportunities and social events offered to UC San Diego postdocs. The success of the show relies on the attendance by faculty, staff scientists, post-docs, grad students, and all research staff, so please spread the word and come to check out the event.
By attending and leaving your contact info, you will enjoy a free lunch and win raffle prizes!

Save time and pre-register: https://2016-ucsd-pda-vendor-show-attendees-registration.eventbrite.com

4th Annual Postdoctoral Research Symposium
Tuesday, November 1, 2016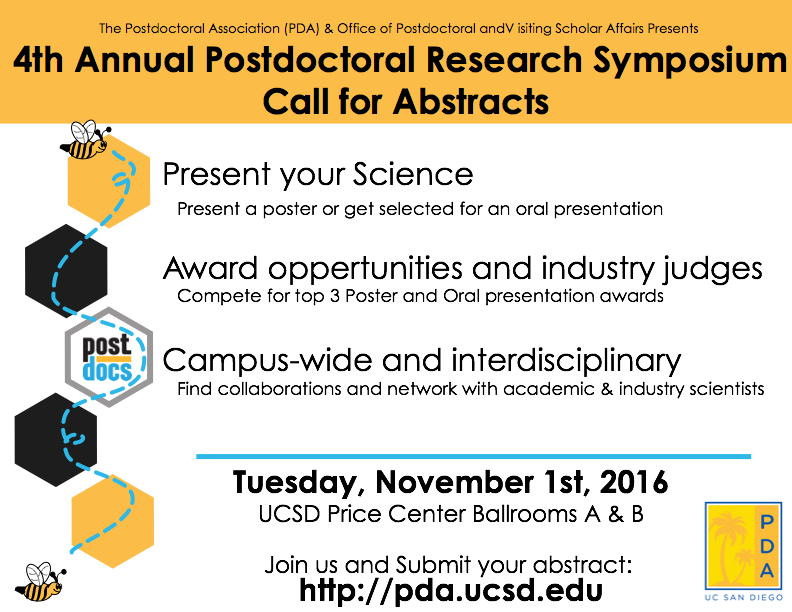 ---
Postdoc Open Mic Night @ Bella Vista 
Wednesdays, 2016 | August 17th, September 14th, October 19th, November 16th
Join us for our 2nd season of Open Mic Night! This event fosters interaction among the people doing hands-on research in the San Diego area and local businesses, biotechs, and the general public.

Guest judges give brief talks (five-minutes each) to introduce their current ventures, followed by five-minute talks by postdocs. Speakers are selected from submitted abstracts (submit below!) by a committee formed by the organizing postdoc associations.

Talks are aimed at those with a limited scientific background, but contain sufficient detail to be of interest to scientists. Judges select winners based on their ability to communicate to a wide audience.

Time: 6 p.m. - 8 p.m.
Location: Bella Vista Caffe (alcove area near the Sanford Consortium auditorium)

For more information, contact postdocopenmicnight@gmail.com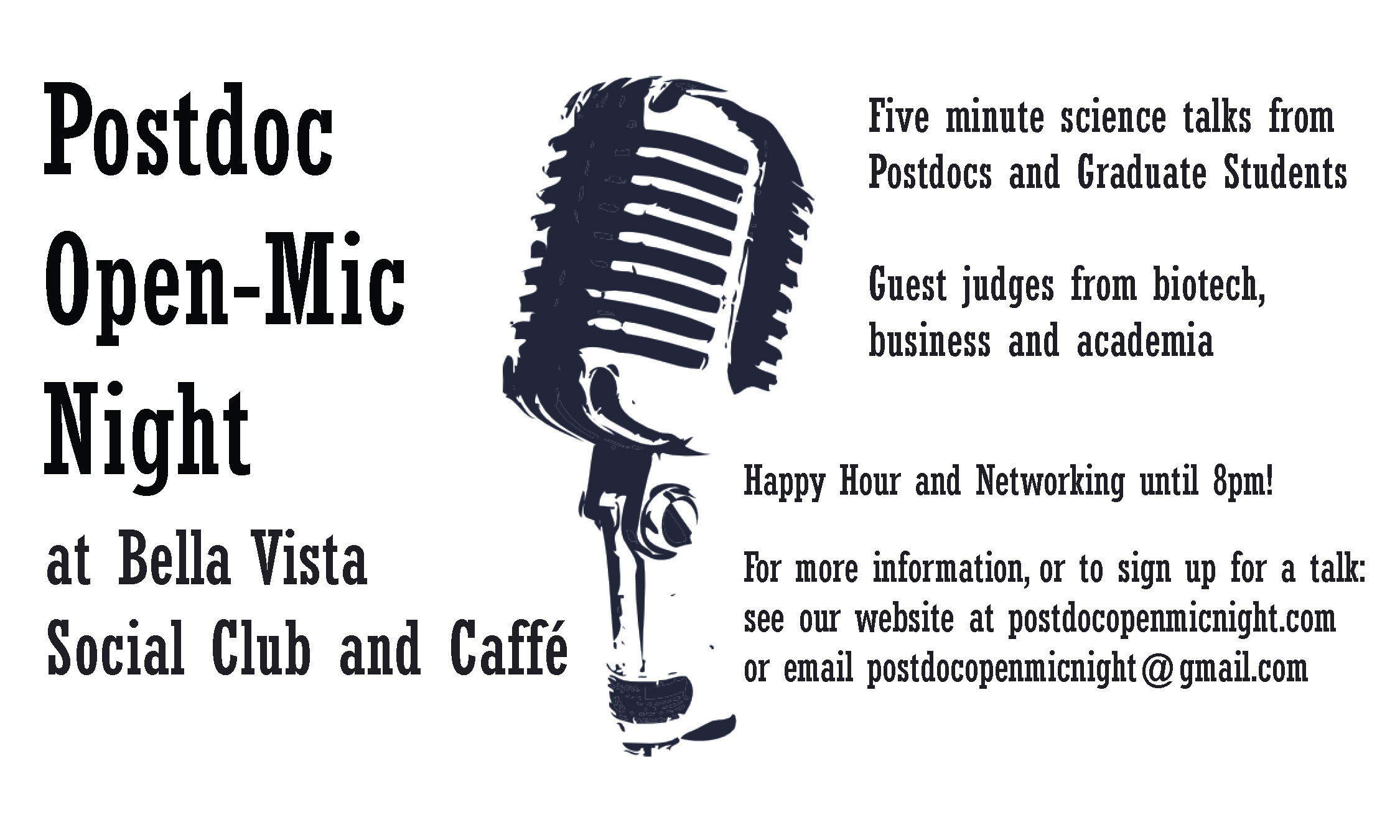 The best speakers will be selected to give a talk at a Bella Vista networking night in front of a general audience, so speakers should bear this in mind when preparing their talks. Please submit a 250 word abstract to summarize the subject of your talk.