2016 Events
Postdoc Happy Hour
Date: Tues, Dec 13th, 2016 (6-9 PM)
Location: Alesmith Brewery (9990 AleSmith Ct.)
Please join us for some beer and meet more postdocs!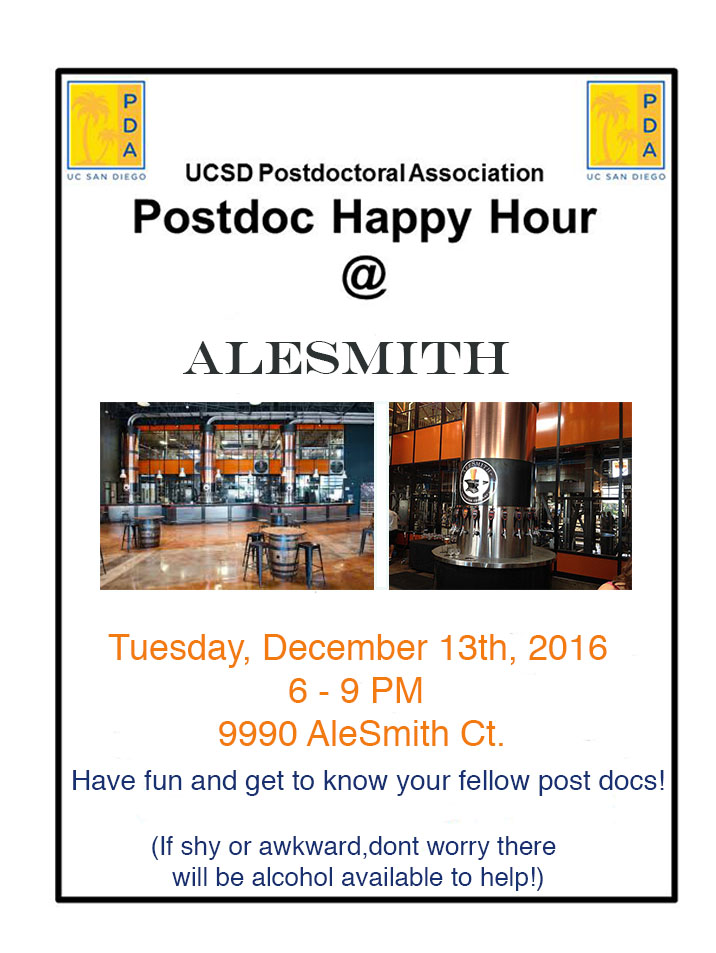 ---
2017 Postdoc New Year's Networking Party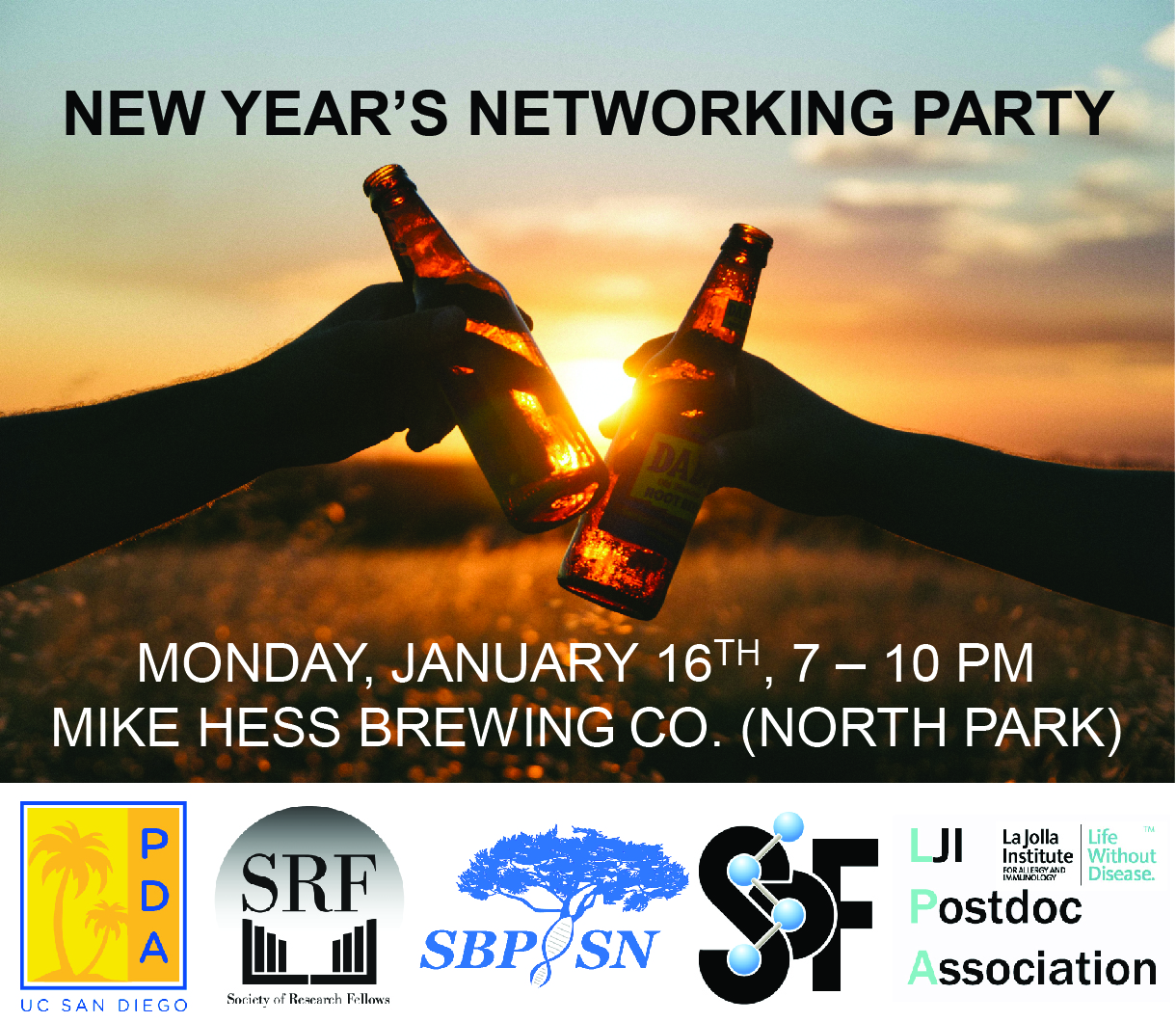 Date: Monday, January 16, 2017
Time: 7 - 10 pm
Location: Mike Hess Brewing Company North Park (3812 Grim Avenue)
RSVP Here!
Ring in the new year with fellow postdocs and industry professionals from around the area!  In collaboration with postdoc associations at The Scripps Research Institute, La Jolla Institute for Allergy and Immunology, Salk Institute & Sanford Burnham Prebys Medical Discovery Institute, we invite you to join us for a New Year's celebration and networking social. Please join us at our Fifth Annual New Year's Networking Party on Monday, January 16th (MLK Jr. Day Holiday) from 7 - 10pm at Mike Hess Brewing Company in North Park. Make networking your resolution, and enjoy free food (and free drinks for the first 100 attendees)!  We hope you embrace this unique opportunity to meet postdocs and alumni from neighboring institutions and local companies in a welcoming atmosphere. 
---
Postdoc Open Mic Night @ Bella Vista 
Wednesdays, 2016 | August 17th, September 14th, October 19th, November 16th
Join us for our 2nd season of Open Mic Night! This event fosters interaction among the people doing hands-on research in the San Diego area and local businesses, biotechs, and the general public.

Guest judges give brief talks (five-minutes each) to introduce their current ventures, followed by five-minute talks by postdocs. Speakers are selected from submitted abstracts (submit below!) by a committee formed by the organizing postdoc associations.

Talks are aimed at those with a limited scientific background, but contain sufficient detail to be of interest to scientists. Judges select winners based on their ability to communicate to a wide audience.

Time: 6 p.m. - 8 p.m.
Location: Bella Vista Caffe (alcove area near the Sanford Consortium auditorium)

For more information, contact postdocopenmicnight@gmail.com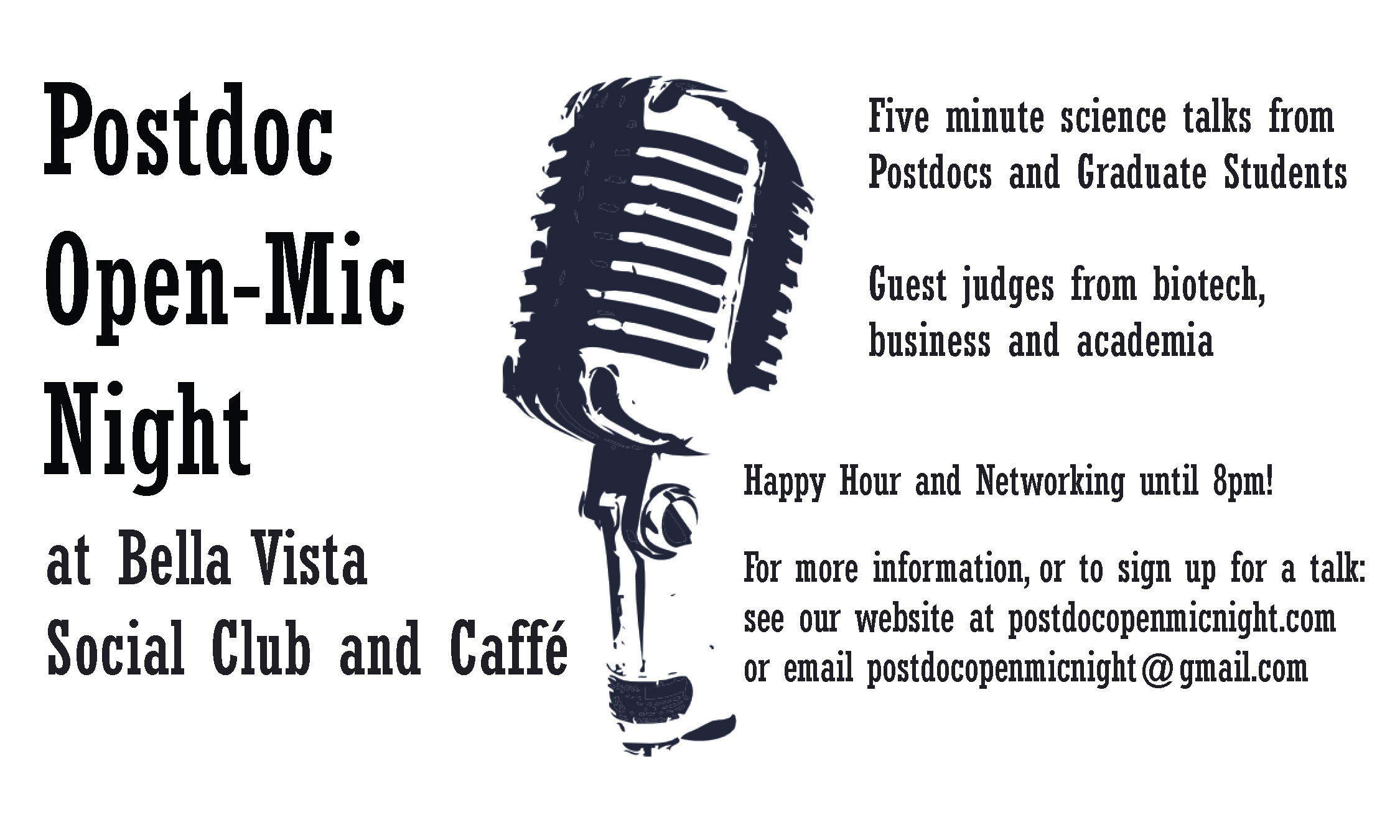 The best speakers will be selected to give a talk at a Bella Vista networking night in front of a general audience, so speakers should bear this in mind when preparing their talks. Please submit a 250 word abstract to summarize the subject of your talk.