2016 Events
Postdoc Table Talk
Friday, July 22, 2016: 12 - 1:30 pm
Postdoctoral scholars rely on a network of mentors and advisors for success during their training and beyond.  Some postdoctoral scholars may not have the opportunity, contacts or venue to broaden this network, especially with academics in another field. 
To address this, the Office of Postdoctoral and Visiting Scholar Affairs (OPVSA) and the Postdoctoral Association (PDA) have collaborated to create a platform for postdoctoral scholars and UC San Diego faculty to connect over an informal lunch at the Faculty Club once per quarter. 
During this lunch, up to 5 postdoctoral scholars and a faculty member of the scholars' choosing will have the opportunity to engage in discussions, such as postdoctoral training, research, life in and outside of academia and more.  The topics are driven by the attendees and all are expected to participate in the discussion.  OPVSA will sponsor the lunches at the Ida and Cecil Green Faculty Club.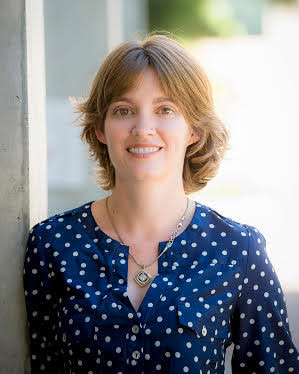 Join us for the lunch on Friday, July 22, 2016 from 12-1:30 pm.
Featuring faculty member:
Kimberly Cooper, PhD
Assistant Professor, Division of Biological Sciences
To request your spot, please click here! Deadline to apply July 8
For more information, please click here. 
We hope you will take advantage of this opportunity to meet with UC San Diego faculty members as they share their insights and experiences!
---
Postdoc Association Lunch
Monday, June 20, 2016
Come enjoy lunch with The UC San Diego Postdoctoral Association (PDA)!  We host monthly lunches, where postdocs can hear from expert guests in industry and academia, as well as learn about our ongoing career development opportunities and social programs.  Meet other postdocs, voice your opinions and get involved!  Start expanding your network today!  
This month we will be discussing how we can improve the international postdoc and graduate student experience at UCSD!  The International Center and the Office of Postdoctoral and Visiting Scholar Affairs recently sponsored a grAdvantage Program Project addressing this issue, which carried out a series of focus groups and surveys of the international community.  We have invited the project team to present their findings and recommendations for improving the international experience!
RSVP today to ensure your seat.  Hope to see you there!! 
Time: 1 p.m. – 2 p.m.
Location: Student Services Center Room 400
RSVP Here: https://www.eventbrite.com/e/june-postdoc-association-lunch-tickets-25880625648
For more information, contact ucsdpda@gmail.com.
Postdoc Open Mic Night @ Bella Vista 
Wednesdays, 2016 | August 17th, September 14th, October 19th, November 16th
Join us for our 2nd season of Open Mic Night! This event fosters interaction among the people doing hands-on research in the San Diego area and local businesses, biotechs, and the general public.

Guest judges give brief talks (five-minutes each) to introduce their current ventures, followed by five-minute talks by postdocs. Speakers are selected from submitted abstracts (submit below!) by a committee formed by the organizing postdoc associations.

Talks are aimed at those with a limited scientific background, but contain sufficient detail to be of interest to scientists. Judges select winners based on their ability to communicate to a wide audience.

Time: 6 p.m. - 8 p.m.
Location: Bella Vista Caffe (alcove area near the Sanford Consortium auditorium)

For more information, contact postdocopenmicnight@gmail.com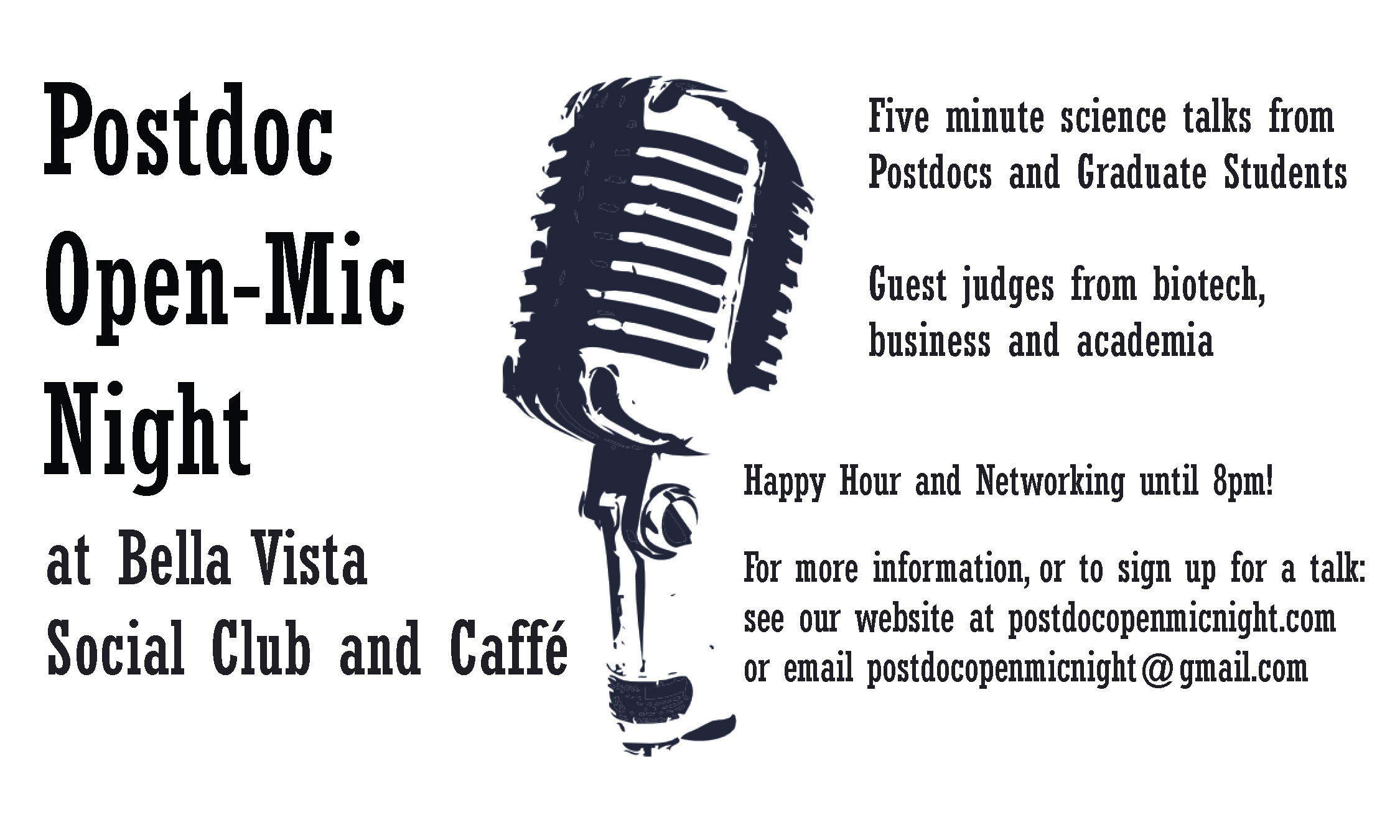 The best speakers will be selected to give a talk at a Bella Vista networking night in front of a general audience, so speakers should bear this in mind when preparing their talks. Please submit a 250 word abstract to summarize the subject of your talk.